Drexel's historic online MBA gets a redesign
Wednesday, July 12, 2017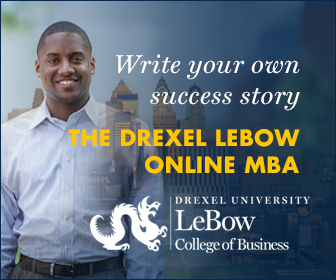 Drexel University's online MBA program has a long history. The LeBow College of Business launched the nation's first "techno MBA" in 1999, and has continued to innovate the world of online MBAs ever since. Now, almost 20 years later, LeBow has given its flagship online program an update to reflect the changing business world.
For the revamped online MBA, customization is key. "Our students are changing," said Mike Howley, clinical professor of marketing at LeBow. "It's very clear we've seen a shift in the students looking for graduate education." With an eye to the growing diversity of needs for their incoming students, LeBow is prioritizing customizable curricula and a flexible plan of study that lets students complete the program at a pace that works for them.
The online MBA features a highly customizable plan of study and can be completed in as little as 18 months or up to five years. Students also have the option of a four-day on-campus residency and international opportunity.
The curriculum itself has been redesigned with the needs of students in mind. One of the biggest changes comes from the wide range of interdisciplinary electives now offered from across Drexel's colleges. Students aren't limited to what LeBow has to offer; they can now build a curriculum that meets their specific needs.
"It used to be that you signed up for the MBA, you came into LeBow and we locked the door. You never left the College of Business," Howley explained. "Well, now we leave the door unlocked and you can explore all that Drexel has to offer."
In addition to the electives, students can also choose from one of six concentrations (accounting, business analytics, entrepreneurship and innovation management, finance, marketing and supply chain management and logistics) to further customize their curriculum.
"I think that the interdisciplinary approach is good to the extent that students really can branch out and create the experience that they want based on the career path and the interests that they have," said Mary Mawritz, Associate Professor of Management. "It prepares them for the career that they want upon finishing the MBA program."
What hasn't changed about the online MBA is Drexel's commitment to supporting students throughout the program and beyond. Ranked first worldwide in career services for online MBAs by Financial Times in 2016, MBA students have the opportunity to speak with career advisers who work directly with their academic advisers to make sure they stay on track. LeBow also offer services like resume assistance, career management coaching and professional panels. Not only are online students able to access all of these resources, but alumni can continue looking to LeBow long after graduation.