Through the Prism: Why You Should Always Ask for Help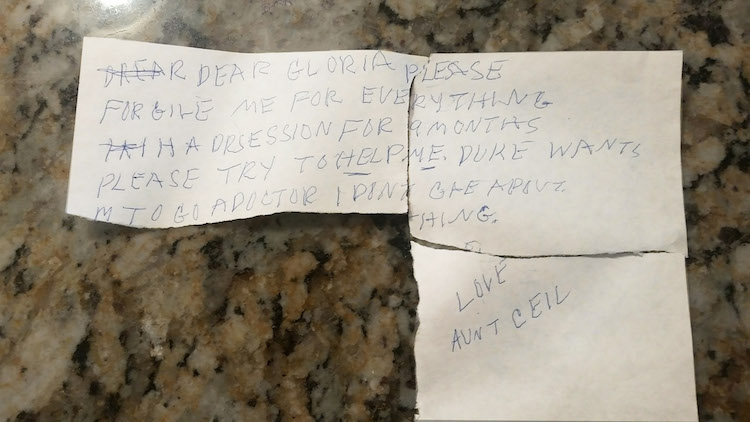 Wednesday, March 07, 2018
In this continuing series, "Through the Prism," Professor and Dean Emerita Gloria Donnelly shares insight, laughs, stories and tidbits in her own words.
---
I found the pieces of Aunt Ceil's note rummaging through an old jewelry box among her deceased son's belongings. Aunt Ceil had died 20 years previously after suffering with bi-polar disorder for most of her adult life. Her "highs" were the highest and her "lows," the lowest. And, although I intervened from time to time at the family's request, I had no idea of her difficulty in asking directly for the help she craved.I know that her illness was a factor; the depression, feelings of worthlessness, low self-esteem.
Reflecting on Aunt Ceil's note prompted my realization that "asking for help" is a universal problem that I have witnessed in colleagues and students and even in myself. Why is it so difficult to ask for help?
Let's imagine that you are a student, currently enrolled in an online program. You have a full time position, a family with young children and parents with health problems. High self expectations have gotten you to this point in your life and career but every now and then you hit a snag. Too much going on – new systems at work, patient care load up, youngest child having kindergarten adjustment issues – and you are enrolled in two courses. The syllabus and assignments for one of the courses are complex and confusing. You are reluctant to call the instructor to ask for explanations. You delay and do your best with the first assignment and earn a B-minus. The instructor's critique points to those aspects of the assignment that you did not fully understand. What prevents your asking for the help?
Shame, Pride and Fear: You have deluded yourself into believing that you should always know what you are doing. If, for example, you work in the health care industry, the decisions you make can save lives or create harm. Whether it is unrealistic self-expectations, the shame of not grasping the directions or pride that prevents you from showing your perceived ignorance, you have an information gap that needs to be closed. You need to ask, to clarify requirements.This is your right as a student and your tuition payment underpins that right. The instructor asserts that the syllabus is a contract, your roadmap to the course but you are having trouble reading the map and the GPS in this case is the teacher. Even if you fear the teacher's negative response or non-response; it is your obligation to yourself to get the clearest instruction possible. If the teacher is negative or non-responsive, you are no worse off and there is always recourse in any system. Also, you will have the opportunity to evaluate the teacher at the end of the course and give recommendations for improvement.

The Power Differential: The teacher has power; evaluating your work and assigning your final grade. Does asking for help connote dependency or an inability to discern what needs to be done? Not at all! Asking for help is part of the student's role, part of the learning process. Students must master not only the subject matter and meet requirements but also learn to recognize gaps in their understanding and interact effectively with those in authority and especially with the teacher to close those gaps. After 45 years of teaching, I consider the student who asks for help and direction, who seeks clarity with respect to course content, requirements and assignments, as a thinking and engaged student, positioned for success. Some students, however, do not realize that they can ask for help and the online format exacerbates this perspective especially in the absence of in-person contact. There are many online avenues in which to approach the teacher for help; email, texting, telephoning, virtual classes and virtual offices hours. Take the initiative and get the help you need, whether at work, school or in life. Your success could be directly proportionate to the help you seek and get.