Harnessing technology for the future of higher education
Thursday, April 07, 2016
Faced with a constant barrage of new technologies and new uses for old ones, untangling the wires, so to speak, of this vast realm poses a continuous challenge for educators. 
In a world where smart egg cartons have the ability to tell us when they are empty, and wristwatches can verbally converse with us, Drexel faculty and staff members are exploring ways to keep pace with this evolving technology—and equally important, how to use it for the betterment of higher education. 
The seamless integration of technology with pedagogy is an interdisciplinary quest: from engineers to sociologists to health care professionals. There are applications to be built, ethical questions to be tackled and policies to be developed.
In the spirit of cross-disciplinary engagement, Drexel University created the Online Learning Council (OLC) in 2009. Today, OLC membership tops 200 faculty and staff members dedicated to using their unique expertise to enhance learning in the digital age.  
"The Online Learning Council is really a meeting of the minds. Faculty and staff from all around campus come together on a regular basis to ensure that we're delivering an innovative educational experience to our students—whether they be in an online, hybrid or traditional classroom," said Susan Aldridge, PhD, president of Drexel University Online and chair of the Online Learning Council.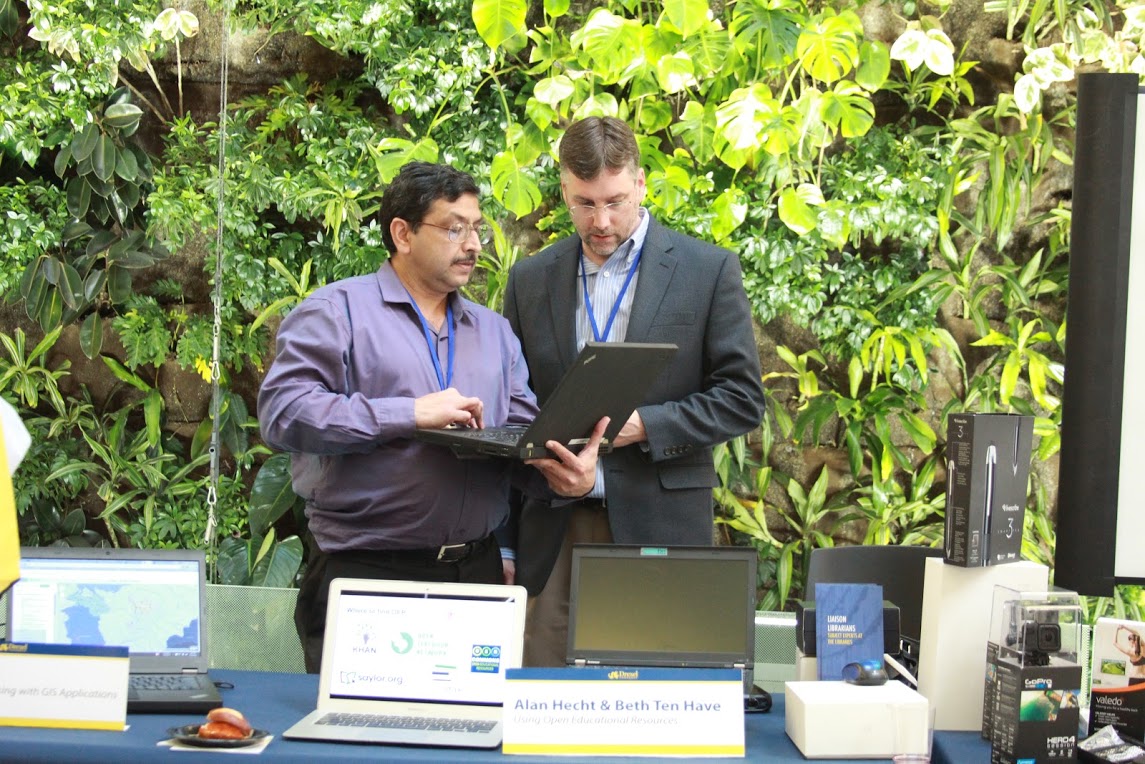 In addition to investigating and designing solutions to critical challenges in technology-enhanced learning, OLC members provide assistance in course development, while also conducting workshops and training for their peers. 
"Technology is a wonderful way to engage students with course content and with each other, but it has to be deliberate," said Kristen Betts, EdD, clinical professor in the School of Education. 
Betts, who has conducted an abundance of research on online and blended learning, notes that technology should not be the focus, but rather the facilitator of course curriculum. When done right, the learning-technology is seamlessly integrated and fades into the background. 
Every student is unique, according to Betts. Not only are they unique in how they learn, but also in the experiences and perspectives that inform their learning. 
Technology helps instructors deliver specific, customized and timely feedback to students, no matter where they are. For example, Betts leaves both verbal and written notes on her online students' papers and takes into account their learning differences. 
"Online human touch is crucial. It's about developing a positive classroom online—one where students really feel that they're visible as individuals," Betts said. 
Betts and Karyn Holt, associate clinical professor in the College of Nursing and Health Professions, presented on the Neuropedagogy of Online Learning (the intersection of neuroscience, psychology and education) at the OLC's third Collaboratory event on March 24. 
As the culminating event at the University's e-Learning conference, the Collaboratory served as an interactive showcase where faculty and staff from both Drexel's various colleges and other local universities convened for a night of food, drink and innovation. 
Amidst a sea of laptops, iPads and gadgets, attendees and presenters discussed current victories and future tasks ahead on the path to seamless technology-integrated learning. 
Via a roaming robot, Holt participated all the way from Alaska, navigated around the room using a remote control and held face-to-face conversations with her peers some 4,000 miles away.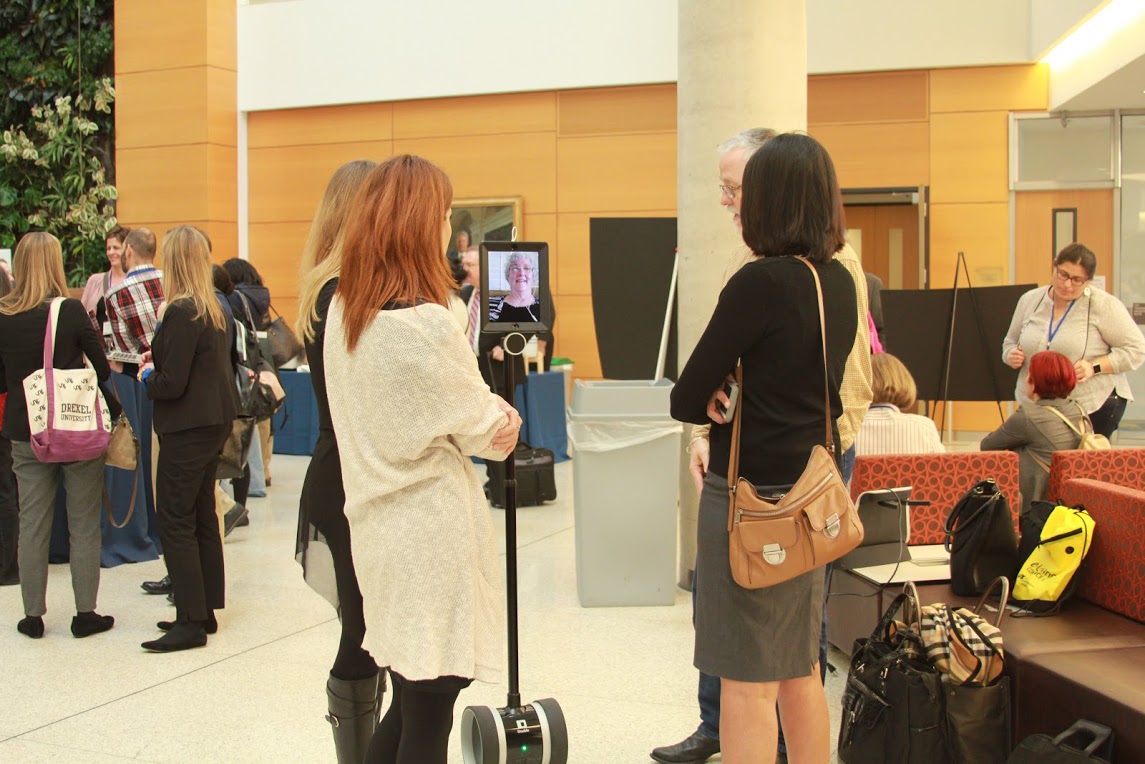 Amanda Golasa, instructional media manager in LeBow College of Business, and Larissa Mogano, senior video and multimedia tech specialist in Information Resources and Technology, presented "How to Compete with the Cat Videos your Students are Watching." The title gives a nod to how students consume information on the internet—and how instructors can take some of that behavior into consideration when designing online classes. 
"We did some surveying and found out that students like videos to be between 20 to 30 minutes long and like to be able to see their faculty member on screen," explained Golasa. 
Also on display at the Collaboratory was a tableful of gadgets from the new Tech Lending Library, designed to give Drexel faculty a unique opportunity to experiment with emerging technology in teaching and learning. 
The equipment—a list of which can be found on the webpage—is housed in Hagerty Library, Room 138. Faculty can borrow equipment to try out, just like they'd borrow a library book to read.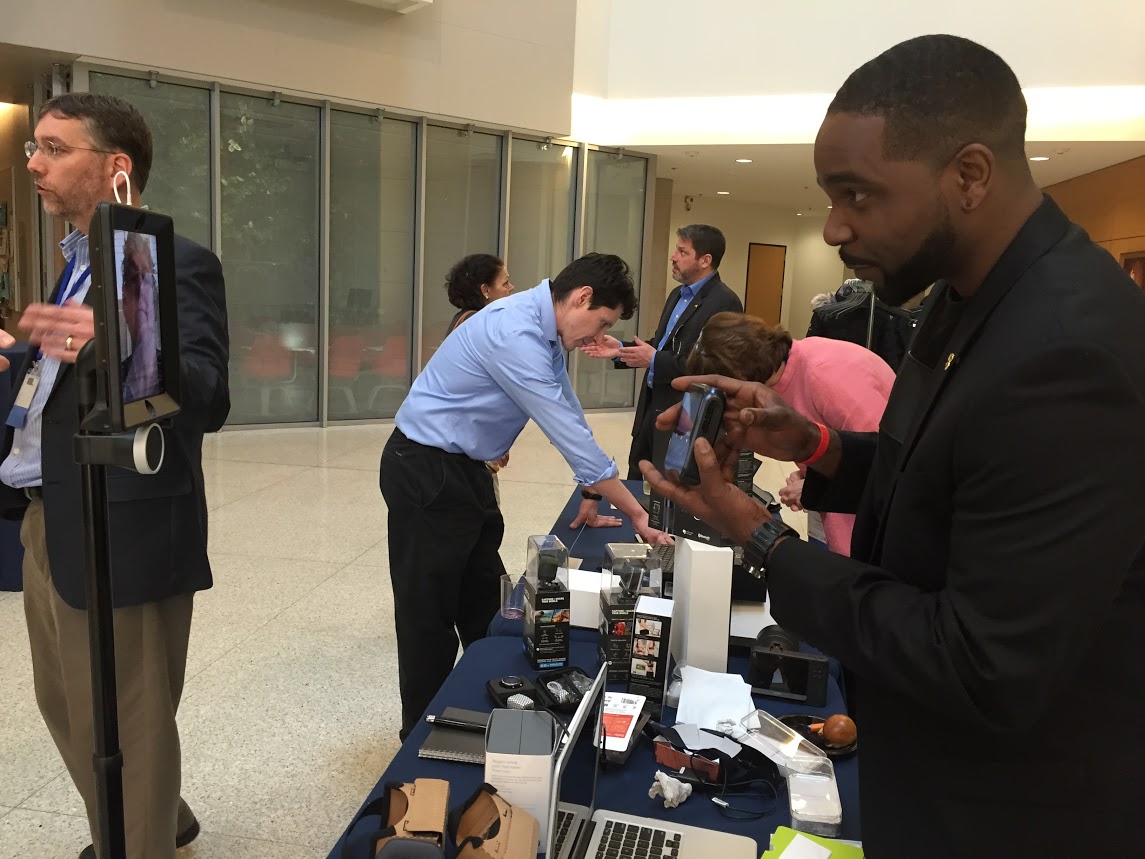 "For faculty teaching online and in the classroom, we want to dazzle them with new teaching possibilities," Aldridge said. "We want to make it simple to experiment with this new technology."
Joel Rodriguez, associate director of Learning Technologies and Obinna Otti, IT manager on the Learning Technology Team, oversaw the procurement of the technology and will help faculty learn how to use and implement it into curricula.  
Currently, the Tech Lending Library includes many of the most innovative gadgets on the market, including a 3-D scanner, the Oculus Rift virtual reality headset, a headband that measures brain-signals and a hand-sized wifi-enabled projector.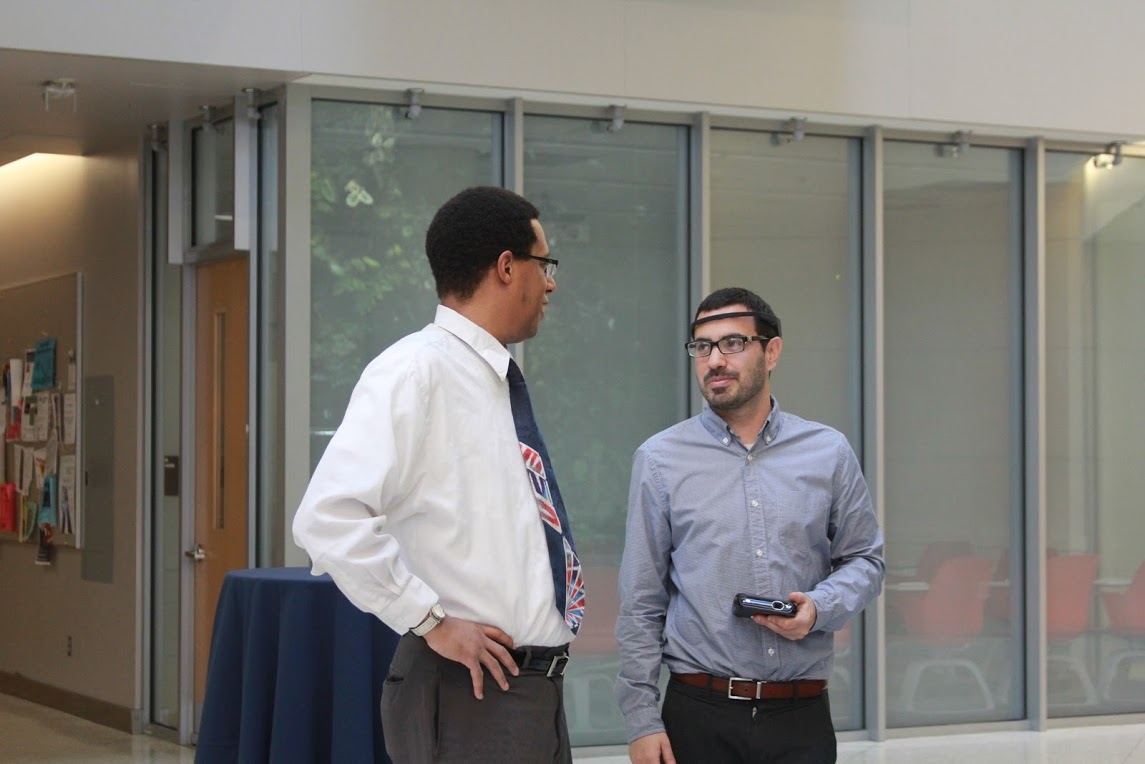 "There are so many ways to translate this cutting-edge equipment into classrooms—both virtual and face-to-face—and we're here to help faculty find creative ways to overcome existing boundaries," Otti said.  
The Tech Lending Library—which is funded by Drexel University Online (DUO)—will continue to grow as the team works with faculty members and program directors to identify their tech-based needs. 
"I look forward to reaching out to them in the upcoming months to learn more about what technology they're interested in pursuing to enhance their coursework," said Rodriguez. "It's not everyday you get to collaborate with some of the most talented faculty in the world." 
This urge to continuously push the boundaries of technology at Drexel is nothing new; in fact, the University is practically built on it.  In launching his revolutionary model of higher education, founder A.J. Drexel envisioned an institution of higher learning uniquely suited to the needs of a rapidly growing industrial society. So while the technological challenges of the 21st century may be vast and more complex the mission to conquer them remains the same.
Full videos of Aldridge's OLC presentation and the spring Collaboratory reside can be found on the Drexel Online YouTube channel.   
To learn more about borrowing equipment from the Tech Lending Library, contact techlend@drexel.edu