Online Grad Working at A.J. Drexel Autism Institute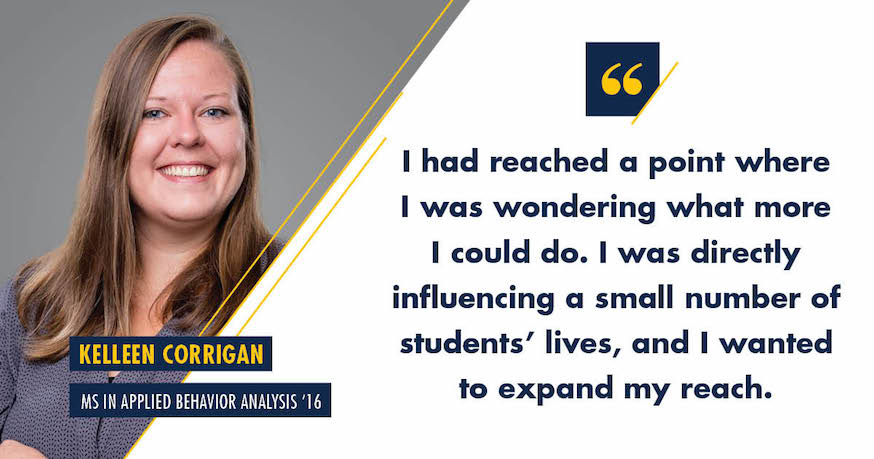 Wednesday, April 04, 2018
A misconception about online learning is that students aren't able to form lasting relationships with their professors or network successfully. After all, many think, how can you form a meaningful, professional connection with someone you've never met in person?
Kelleen Corrigan would have to disagree.The 2016 graduate of Drexel Univeristy's online MS in Applied Behavior Analysis (ABA) program was living in New Jersey when she was offered an amazing opportunity. One of her professors was so impressed with her performance in an online class that Corrigan was offered an internship at the A.J. Drexel Autism Institute. There was just one caveat. Corrigan would have to move to Philadelphia.
Corrigan said yes. It's a decision that would lead to her nabbing what would be, for many, a dream job upon graduating.
But first, some background.
Corrigan has been interested in working with children with special needs since she was a teenager. 'I grew up around the world of autism," she said. "I have a lot of family members that work in the field. I've always been interested in working with the special needs population."
However, she began her undergraduate career with the intention of becoming an athletic trainer. Her interest in helping athletes expanded to include helping them mentally as well as physically, and Corrigan ended up graduating with a degree in psychology.
Corrigan was working at a school for students with special needs when she was offered the opportunity to learn some ABA techniques. She went on to work as an ABA therapist for four years before beginning Drexel's program.
"I had reached a point where I was wondering what more I could do. I was directly influencing a small number of students' lives, and I wanted to expand my reach," Corrigan explained. 'I felt like to do that I needed to pursue my master's degree and become more educated, more knowledgeable, so that I could share that knowledge."
Corrigan was drawn to Drexel because of the A.J. Drexel Autism Institute. The Autism Institute is the first research organization dedicated to bringing a public health approach to autism research and emphasizes community-based action to improve the lives of those on the autism spectrum and their families. Many of Corrigan's professors were employed at the Autism Institute.
One of those professors was Jim Connell, PhD, who also serves as clinical core director at the Autism Institute. Connell offered Corrigan the opportunity to intern at the institute, where she assisted on a project in conjunction with the University of Pennsylvania working with adults with autism. Though she had been interested in the Autism Institute from the start, what really convinced Corrigan to uproot her life was her relationship with Drexel's faculty.
"The whole reason that I decided to move to Philadelphia was because of my relationship with the faculty, Because I felt so motivated by their experiences and what they were sharing with me, I wanted to experience that as well," Corrigan said. "I had done a lot of work in the field but didn't know how it could be applied. They opened my eyes to how ABA could be applied to almost every aspect of my life. For me, that was a real motivator to want to come and work with them and be a part of what they were doing."
Since graduating, Corrigan has been busy. She became a full-time employee at the Autism Institute, where she has been able to do research and work directly with various communities, conducting functional behavior assessments in schools throughout South Jersey. She also works within Drexel's neighboring West Philadelphia communities. Her role at the Autism Institute allows her to do research and direct work, a combination that's unique within the field.
"Sometimes it's hard to balance research and direct work because it's very time consuming to do both," said Corrigan. "Because of my position at the A.J. Drexel Autism Institute, I have the unique opportunity to be involved in more research-based projects. Had I not been involved here at Drexel, I probably would be doing more direct work. It's incredibly important to me that I'm able to do both."