Through The Prism: When Personal Life Affects Academic Learning & Pursuit Of A Degree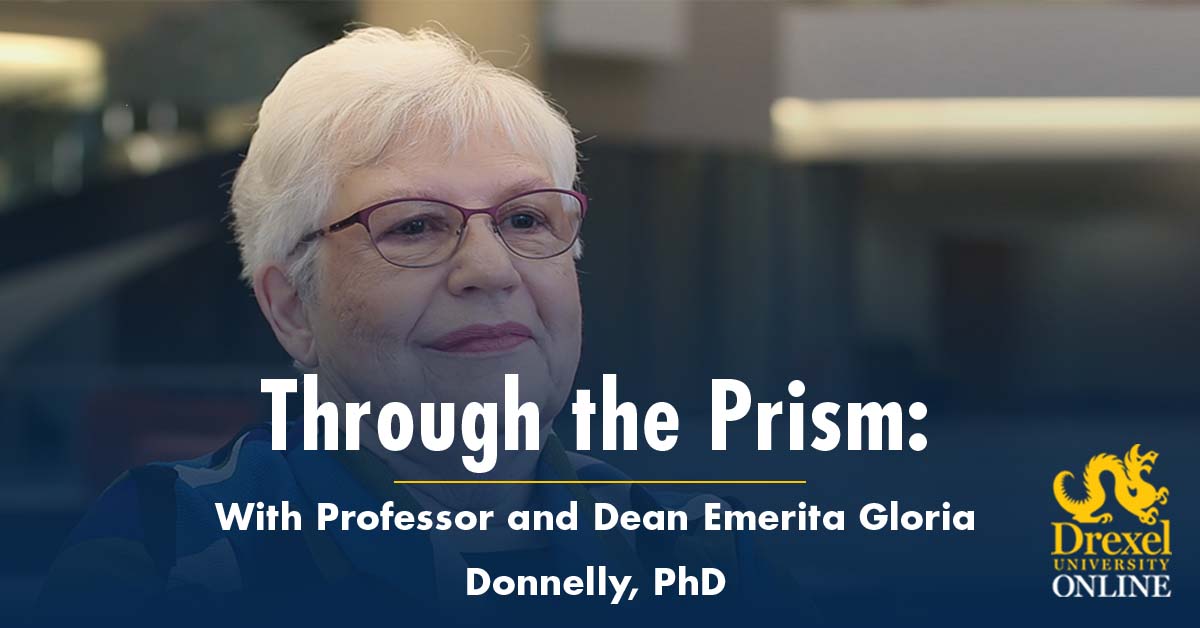 Gloria Donnelly
Tuesday, July 10, 2018
In this continuing series, "Through the Prism," Professor and Dean Emerita Gloria Donnelly shares insight, laughs, stories and tidbits in her own words.

---
It's midnight and for the past two hours I have been posting on the discussion board in the online course I am teaching. My thinking is clearer at night and I might go another hour commenting, responding and raising questions about the case at hand. It is the final evening for responding to this graded discussion and I notice that Eva has not posted. I run a course report telling me that Eva has spent six hours in the course in the first two weeks, an indication that she is engaged with course content. I consider my options and decide to telephone the student on the following morning.
Eva is surprised at my call. I can hear the nervousness in her voice. I immediately reassure and voice my concern that she has not posted to the graded discussion board but that there is still time. I ask, "Is there something going on that is preventing you from participating?" She immediately apologizes and recounts the pressures bearing down--a full-time job and part-time work on weekends to help make ends meet; two toddlers and a husband whose job requires frequent travel and time away from home. The decision to return to school was driven by a looming policy at Eva's place of employment concerning basic degree requirements. Although some of my teacher colleagues might object, I decide to give her extra time to complete the assignment. It is my call.
My conversation with Eva prompts a few memories--the student who confessed that she was living in a car and could not always get good Wi-Fi reception on her computer; the student who lived alone with her mother suffering from dementia and who would disassemble their joint living quarters at least once a week; the student going through a nasty divorce and the student who sobbed that he could not afford the books and clinical tools required in the course. Thankfully, these students are the exception. However, their stories serve as useful reminders for me to be vigilant and sensitive to student stressors and to structure the environment so that students can learn, meet all requirements or come to new realizations about their career goals.

I am reminded of Margo, an undergraduate nursing student in one of my clinical groups. Margo was elusive--she was fully engaged with her patients but would occasionally disappear alone to the staff lounge or the conference room. On some days she looked tired, even unkempt. Even though Margo was meeting her clinical objectives, I sensed a problem so one morning I found her in the staff lounge and closed the door. "Have you completed your patient assignments?" I asked as I poured myself a cup of coffee. "Not quite," Margo said as her eyes welled up with tears. I always had tissues handy when working clinically with students--I offered Margo a tissue, sat beside her and listened as she spilled out her story of family and financial distress. Despite questioning herself and voicing how overwhelmed she felt, Margo had a goal--to be a nurse. She eventually completed her program and launched what is now a great career. All I did was listen, respect her feelings, ask leading questions and gently nudge her in the right direction. This encounter reminded me of Emerson's saying, "The secret in education lies in respecting the students." Perhaps the even deeper secret is recognizing when students need a non-judgmental ear.
Whether it is being available in the office or the chat room, responding promptly to calls or emails, encouraging thought, expression and debate, giving meaningful feedback, being a fair and responsible grader or updating courses so that they are relevant and timely--a teacher's days are filled with opportunities to make a difference in the lives of students and to shape a new generation for service.