Mary Eliza Mahoney: The First African American Registered Nurse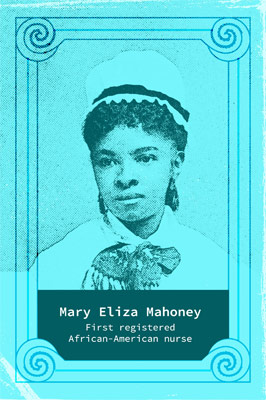 Monday, February 10, 2020
2020 has been named the Year of the Nurse and Midwife by the World Health Organization. To celebrate, every month we're highlighting a nurse who has helped change the world.
Mary Eliza Mahoney was born in Boston, Massachusetts in 1845. The child of freed slaves who moved to Boston from North Carolina, she was educated at the Phillips School in Boston before going on to work at the New England Hospital for Women and Children. She worked for 15 years as a janitor, cook, washer woman and nurse's aide.
Finally, in 1878, Mahoney, then 33, enrolled in the hospital's professional graduate school for nursing. She joined 41 other classmates in the 16-month intensive program, and of that number only four, including Mahoney, completed it in 1879. Upon completion of the program, Mahoney became the first African American in the U.S. to earn a professional nursing license.
Mahoney spent decades working as a private nurse, primarily caring for wealthy white families along the east coast. In 1911, she became the director of the Howard Orphanage Asylum for black children in New York City.
In 1896, Mahoney joined the Nurses Associated Alumnae of the United States and Canada, which later became known as the American Nurses Association. The group was predominately white, though, so in 1908 she co-founded the National Association of Colored Graduate Nurses to better advocate for the equality of African American nurses. Mahoney is also famous for being one of the first women to register to vote in Boston after the ratification of the 19th Amendment.