Post-Master's Certificate in Geriatrics
The Post-Master's Certificate in Geriatrics is designed for Physician Assistants (PAs) looking to enhance the knowledge and skills needed in clinical geriatrics to build competencies in patient-centered, evidence-based clinical practice and improve access to high-quality geriatric care.
Upon completion of the Certificate, you will:
Apply an evidence-based, clinically oriented knowledge base in geriatric medicine
Use working knowledge in pharmacotherapeutics based in geriatric physiology and the current published evidence-base for application to geriatric patient care
Demonstrate proficiency in the use of current evidence-based recommendations and clinical practice guidelines for the care of common geriatric disorders
Apply clinical evaluation and management skills for care of geriatric patients in outpatient and inpatient settings
Improve access to high-quality geriatric medical care
Program Features
Classes are taught by experienced and board-certified faculty from Drexel's acclaimed College of Nursing and Health Professions
The three didactic courses are offered online, and the clinical practicum in geriatrics is a supervised clinical practice experience
If you would like more than one term of supervised clinical practice, the clinical practicum course may be taken (optionally) for an additional one or two terms
Why is this program important?
The geriatric population is growing exponentially in the US, with elderly persons constituting 14% of the population in 2013 and projected to be 25% of the population or greater than 70 million by 2030.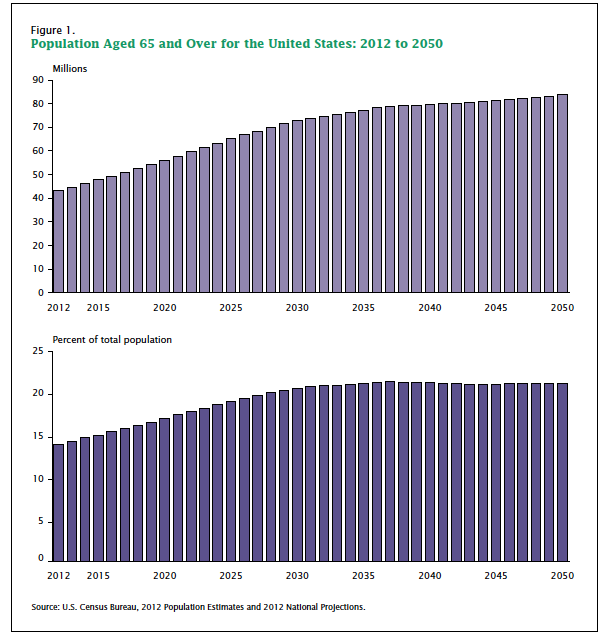 From census.gov
Currently, there is a shortage in the number of clinicians specifically trained to care for geriatric patients. According to the 2013 Annual Survey Report of the American Academy of Physician Assistants (AAPA), less than 1% of all Physician Assistants currently work in geriatrics yet the knowledge needed to deliver high-quality care in geriatrics is a priority.
---
State restrictions may apply to some programs.
Curriculum
This program is organized into four 10-week quarters per year (as opposed to the traditional two semester system) which means you can take more courses in a shorter time period. One semester credit is equivalent to 1.5 quarter credits.
The Certificate in Geriatrics consists of three didactic courses and one clinical practicum (20.0 quarter credit hours). The certificate program is offered part-time for working professionals and is one year in length; the program begins in the Winter Term of each year (January), and runs through the Fall term of the following year (December).
Required Courses

PA 810
Clinical Applications of Geriatric Physiology
5.0
PA 811
Geriatrics I
5.0
PA 812
Geriatrics II
5.0
PA 819
Geriatrics Clinical Practicum
5.0
Total Credits
20.0
Admissions Criteria
Master's degree with a minimum GPA of 3.0
Graduate of an ARC-PA accredited PA Program
Current NCCPA certificate
Active, unrestricted license for clinical practice as a Physician Assistant
Minimum of one year of clinical practice as a PA
Required Documents
With multiple ways to submit documents, Drexel makes it easy to complete your application. Learn more by visiting our Completing Your Application Guide.
A completed application
Official transcripts from all universities or colleges and other post-secondary educational institutions (including trade schools) attended
Two letters of recommendation from relevant professional references, with at least one from a supervisor.
A personal statement describing your reasons for pursuing the program and professional goals and plans
Additional requirements for International Students
Tuition
The tuition rate for the academic year 2020-2021 is $1026 per credit. (A 10% tuition savings off Drexel's regular tuition rate of $1140 per credit)
This program is not eligible for Financial Aid.
Special tuition rates available for Drexel University Alumni, Military members, and members of our Partner Organizations.

These rates apply only to new online students and students being readmitted.
These rates apply only to fully online courses. Hybrid or on-campus courses may have different rates.
Tuition rates are subject to increase with the start of each academic year in the fall term.
All students must contact applyDUonline@drexel.edu within the first two weeks of the term to request tuition savings for which they qualify.
Special rates cannot be combined. If you qualify for more than one special rate, you'll be given the one with the largest savings.
When receiving special tuition plans with Drexel University Online, you may not combine them with other tuition benefits that may be available from Drexel University.
Academic Calendar
2019-2020 Academic Year

2020-2021 Academic Year
Apply today for the Post-Master's Certificate in Geriatrics
Apply now to begin your application for obtaining a Drexel degree online!