Online Master's (MS) in Construction Management
Master of Science in Construction Management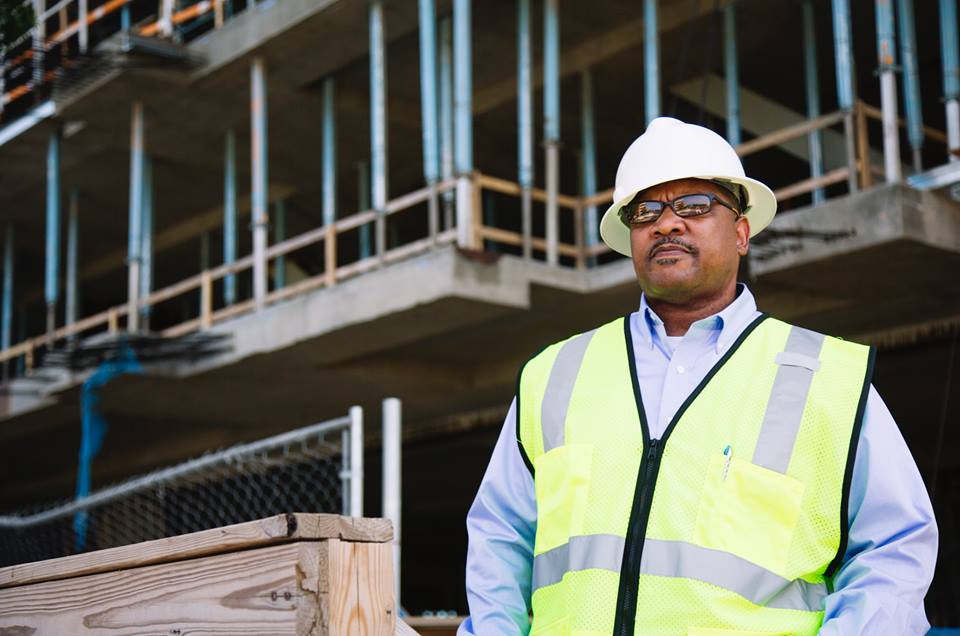 Gregory Page, MS in Construction Management '17
What can you do with a Construction Management degree?
A Master's degree in Construction Management gives you the opportunity to develop the multidisciplinary skillset required of effective senior construction managers and supervisors. Drexel's online program focuses on meeting the challenges of complex construction projects, challenging deadlines and increasing regulation. As a Construction Management student, you'll learn technical knowledge, practical business decision-making, and leadership skills relevant to successfully managing construction operations.
Graduates work as project managers, coordinators, estimators, schedulers, safety specialists, business development managers, suppliers, regulators, and other stakeholders involved with construction projects. Some construction management graduates rise to senior-level executive positions, while others own and operate their own firms.
How do you become a Construction Manager?
Step 1 – Earn your Bachelor's Degree
An undergraduate degree in construction management, engineering or architecture is preferred; however, if you're changing careers, Drexel's online Master's in Construction Management curriculum and concentration options will provide the strategic thinking and action-based learning skills needed for your new career in construction management.
Step 2 – Gain Construction Management Experience
Those considering a change in career should look for entry level positions or internship opportunities in a construction management firm. A management assistant position provides a first-hand knowledge of construction site operations.
Step 3 – Earn your Master's Degree in Construction Management
Drexel's online Master's in Construction Management provides the technical competence, strong business acumen, and essential leadership skills needed to navigate the daily challenges construction managers face in successfully managing construction operations.
Construction Management Concentrations
Construction Project Management
Real Estate Development
Sustainability and Green Construction
Six Reasons to Earn an MS in Construction Management
In the following video, Christine Fiori, Program Director for Drexel's Construction Management program, explains 6 reasons to earn your Master's in Construction Management and how the degree prepares you to advance your construction career.
What makes Drexel's Online MS in Construction Management stand out?
Quality
Technical competence and strong business acumen taught through rigorous, targeted graduate study.
Outstanding Faculty
Drexel's faculty has decades of construction management experience in both the public and private sectors, as well as union and open shop environments.
Highly-Interactive
Drexel's curriculum engages and challenges, while remaining convenient for working professionals. All courses are offered online. No residency requirements or on-site classes are mandated, allowing you flexible participation.
Archived Construction Management Webinar
Drexel's 10,000 Hours Podcast: Captain Planet, Philly Edition
Solar panels, wind power, the Green New Deal. There's a lot going on in the world of renewable energy, and it can be hard to keep track of. Drexel's Jeffrey Beard explains how we can "green" our houses and why Philly is perfectly set up to be a sustainable city.
Related Programs
---
Drexel University offers a variety of Graduate Minors that can be added to any master's degree program.
State restrictions may apply to some programs.
Curriculum
This program is organized into four 10-week quarters per year (as opposed to the traditional two semester system) which means you can take more courses in a shorter time period. One semester credit is equivalent to 1.5 quarter credits.
Core Courses

CMGT 501
Leadership in Construction
3.0
CMGT 505
Construction Accounting and Financial Management
3.0
CMGT 510
Construction Control Techniques
3.0
CMGT 512
Cost Estimating and Bidding Strategies
3.0
CMGT 515
Risk Management in Construction
3.0
CMGT 528
Construction Contract Administration
3.0

Electives

21.0

Select 7 courses:

CMGT 525

Applied Construction Project Management

CMGT 530

Equipment Applications and Economy

CMGT 532

International Construction Practices

CMGT 535

Community Impact Analysis

CMGT 538

Strategic Management in Construction

CMGT 540

Schedule Impact Analysis

CMGT 545

Sustainable Principles & Practices

CMGT 546

Sustainable Technologies

CMGT 547

LEED Concepts

CMGT 548

Quality Management and Construction Performance

CMGT 550

Productivity Analysis and Improvement

CMGT 558

Community Sustainability

REAL 568

Real Estate Development

REAL 571

Advanced Real Estate Investment & Analysis

REAL 572

Advanced Market Research & Analysis

REAL 573

Sales & Marketing of Real Estate

REAL 574

Real Estate Economics in Urban Markets

REAL 575

Real Estate Finance

REAL 576

Real Estate Valuation & Analysis

REAL 577

Legal Issues in Real Estate Development
Culminating Experience
6.0

CMGT 696

Capstone Project in Construction Management I

CMGT 697

Capstone Project in Construction Management II
Total Credits
45.0
Admissions Criteria
A bachelor's degree in Construction Management, Engineering, Business, or non-technical degree from a regionally accredited university
Required Documents
With multiple ways to submit documents, Drexel makes it easy to complete your application. Learn more by visiting our Completing Your Application Guide.
Tuition
The tuition rate for the academic year 2022-2023 is $1342 per credit.
This program is eligible for Financial Aid.
Special tuition rates available for Drexel University Alumni, Military members, and members of our Partner Organizations

These rates apply only to new online students and students being readmitted.
These rates apply only to fully online courses. Hybrid or on-campus courses may have different rates.
Tuition rates are subject to increase with the start of each academic year in the fall term.
All students must contact applyDUonline@drexel.edu within the first two weeks of the term to request tuition savings for which they qualify.
Special rates cannot be combined. If you qualify for more than one special rate, you'll be given the one with the largest savings.
When receiving special tuition plans with Drexel University Online, you may not combine them with other tuition benefits that may be available from Drexel University.
Apply for admission to Drexel University
Use the Apply Now form to get started.