Online DNP Students Study Abroad with Canada Immersion Trip
Monday, July 15, 2019
A good syllabus and curriculum can only take you so far. This spring, Drexel's online Doctor of Nursing Practice program took students beyond the virtual classroom with unique and enriching learning opportunities in an international health care setting.
Drexel's DNP program offers a global immersion experience that awards students with required clinical practice hours. During the 6-day trip to Canada, Drexel's cohort learned about responding to current and future global health care needs while comparing and contrasting society and health care systems at home and abroad. The week was filled with engaging and interactive lectures, presentations, networking, sightseeing, tours and irreplaceable life experiences.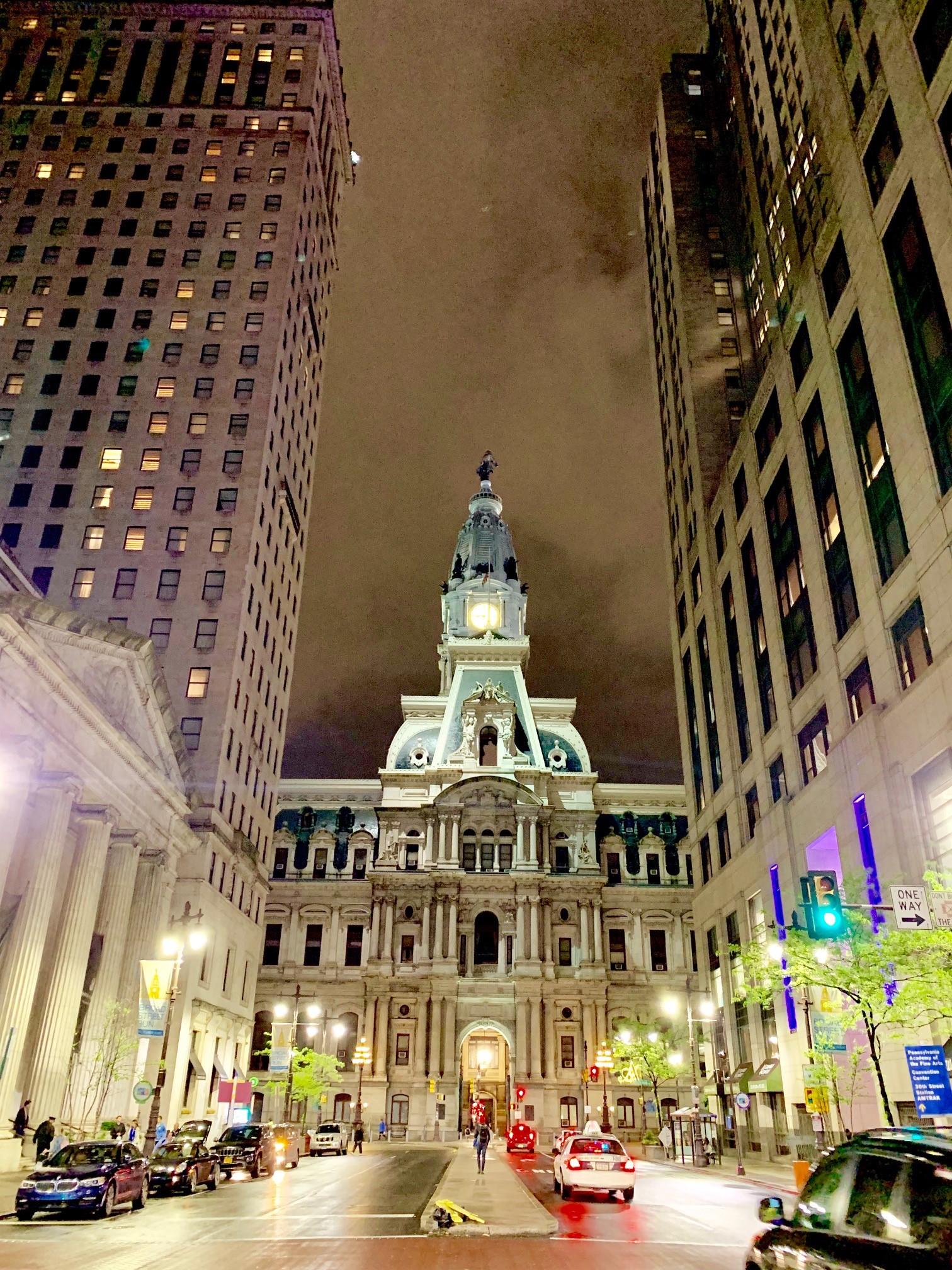 Philadelphia's historic city hall shines at night. (Photo credit: Christopher Acebedo)
Friday, April 26
Students and faculty met in Philadelphia for an evening of comradery and churrascaria at the mouth-watering Fogo de Chão Brazilian steakhouse. In preparation for their flight the following day, the cohort experienced two things most online DNP programs don't offer: face-to-face interaction with classmates and faculty and the opportunity to foster intercultural relationships.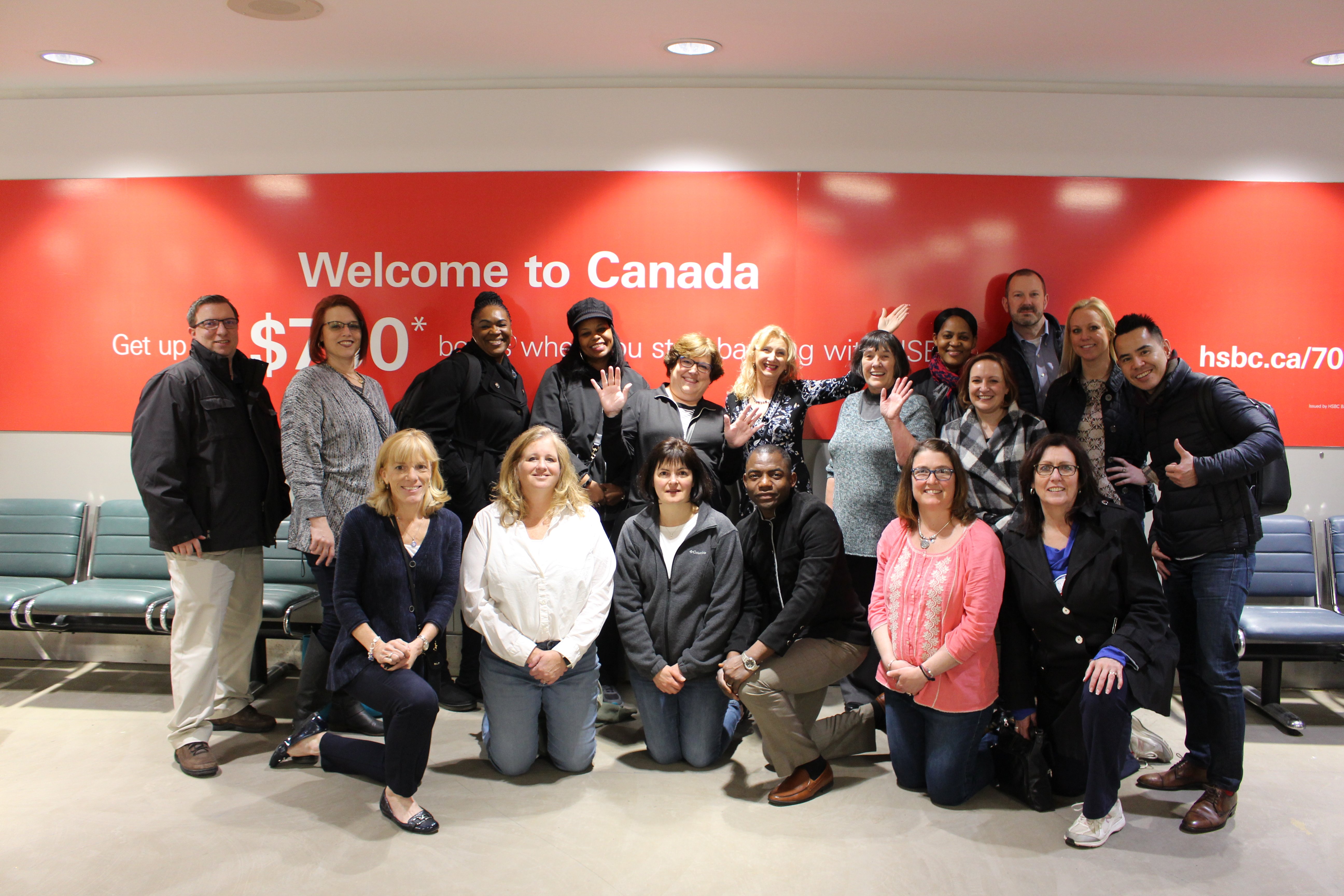 Students from Drexel's online DNP program take a group photo upon arriving to Canada. (Photo credit: Beatrice Leyden)
Saturday, April 27
The next day, students had officially crossed the border to our northern neighbors in Hamilton, Canada. Classes and lectures were still two days away, so the cohort took advantage of the free time by embarking on sightseeing and guided tours.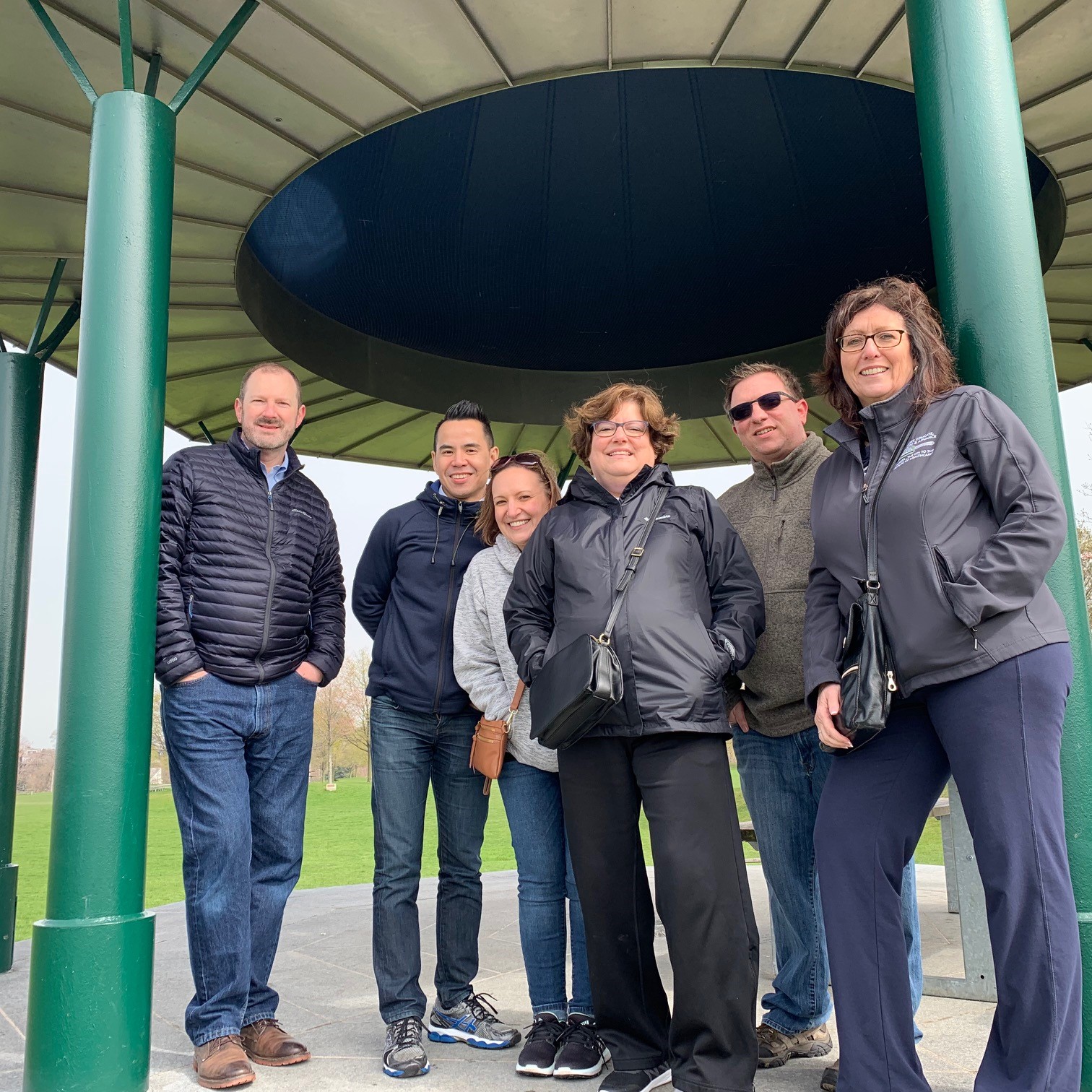 A group of DNP students opted to visit the Dundurn Castle, an 18,000-square-foot house built in 1835. (Photo credit: Christopher Acebedo)
"It was a chance to see and feel the culture of Canada in a social arena before we visited academia," said student Bernadette Weis.
Sunday, April 28
Sunday brought an adventure unlike any other -- and one that some described as, "breathtaking." The 12,000-year-old Niagara Falls, ranked by U.S. News & World Report as the #1 "best family vacation in Canada," certainly gave students a rush. "I had so much fun taking pictures with the other students," remarked student Esther Brant. "I am so grateful to have had this once-in-a-lifetime opportunity."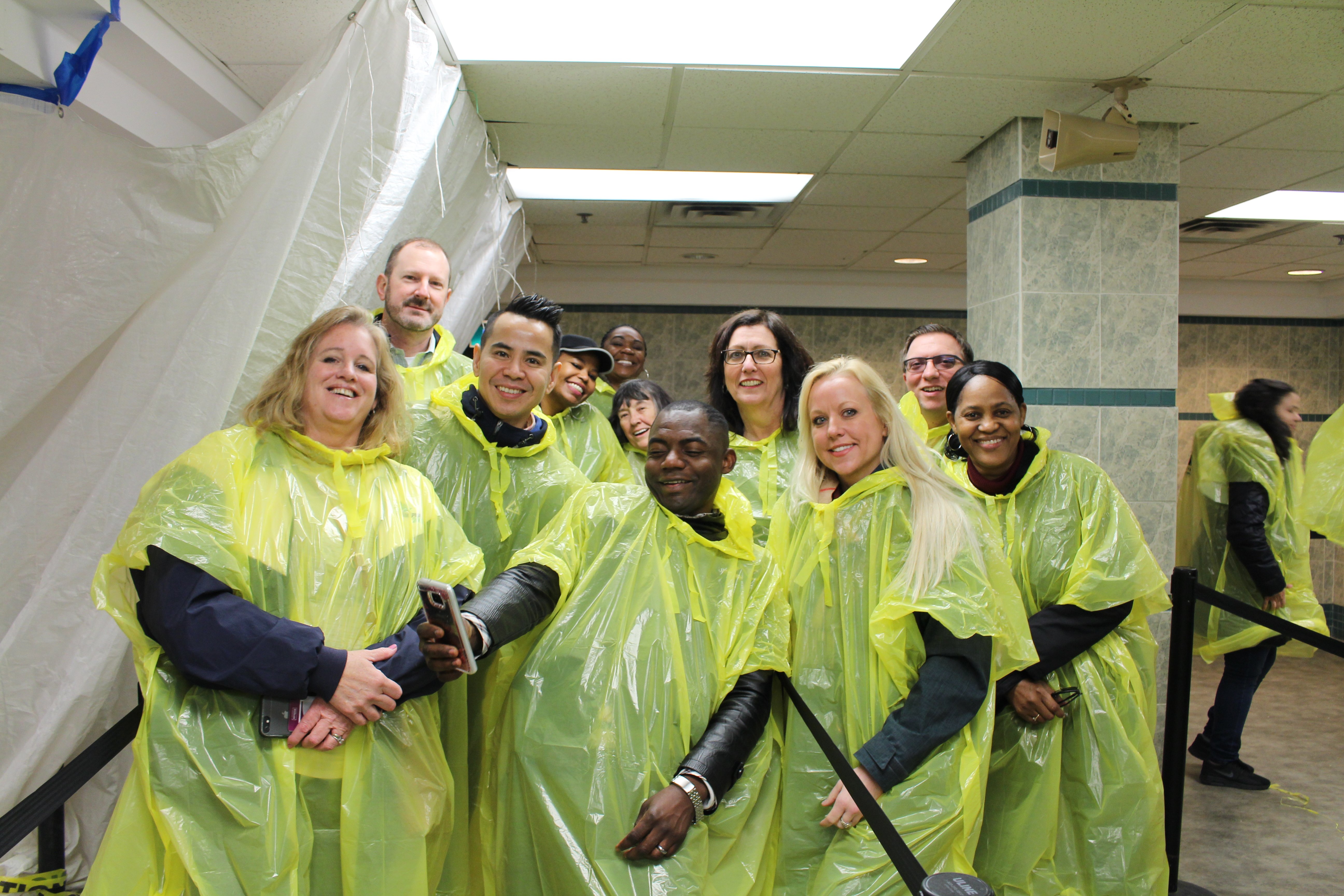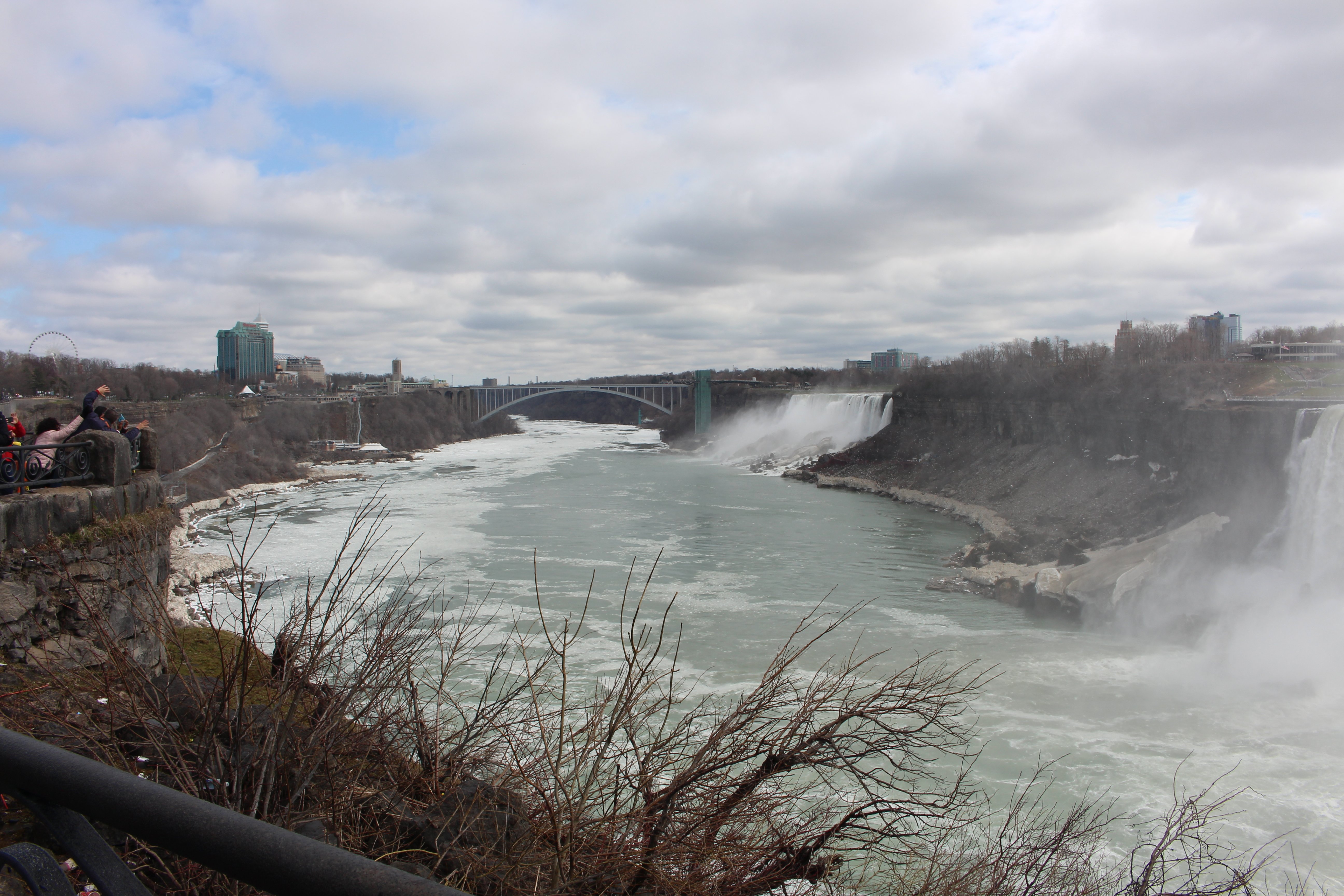 Students posing 150 feet underground before their voyage under the falls. (Photo credits: Beatrice Leyden)
A tour guide shared stories of the many daredevils who have attempted to cross the massive falls in everything from a barrel to a wheelbarrow. The day concluded with a bus tour, which included several scenic stops, and an indulging group wine tasting.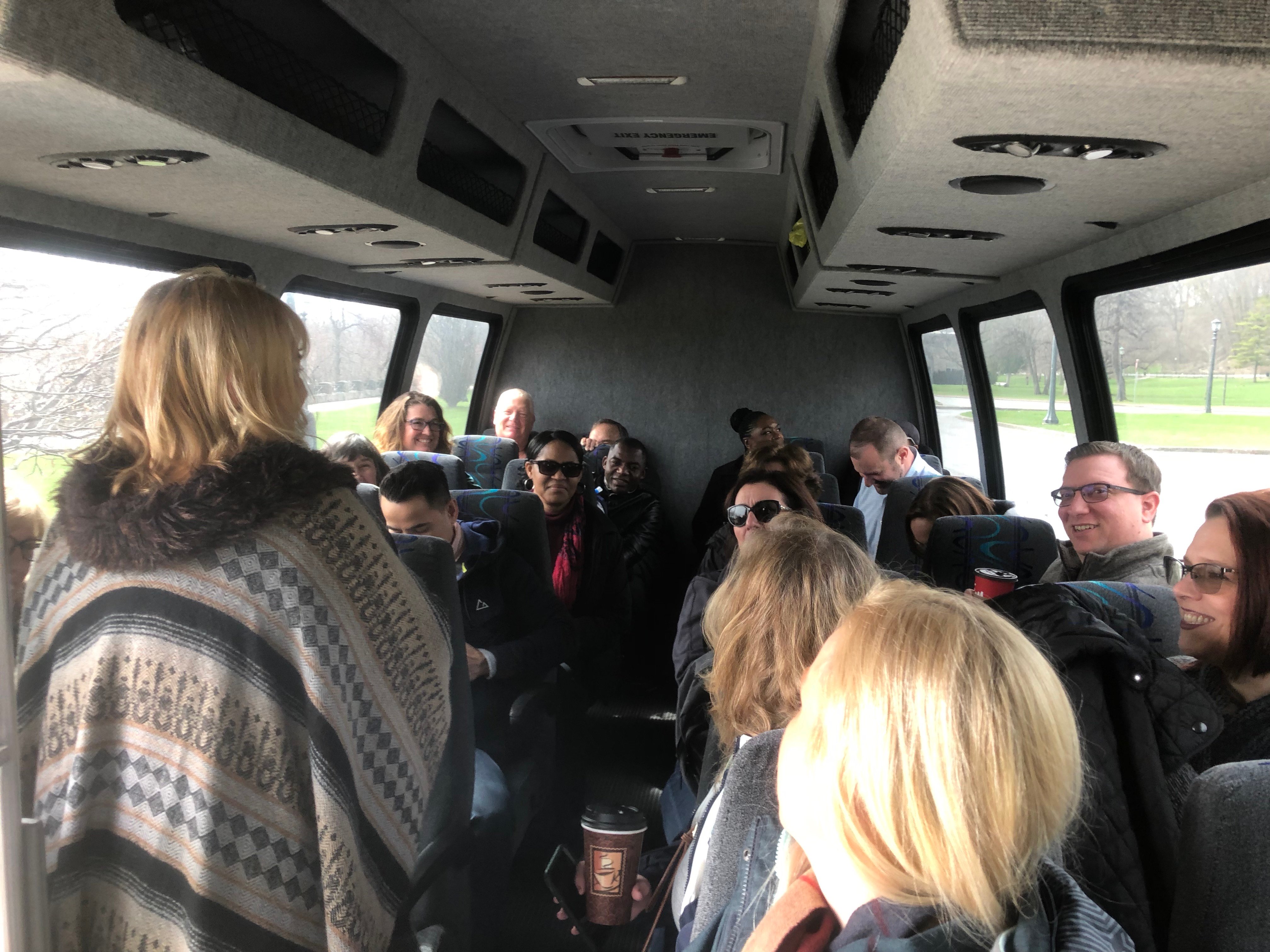 Dr. Susan Solecki addressing the DNP cohort as they enjoy a bus tour of Niagara, Canada. (Photo credit: Reese Williams)
Monday, April 29
After the first few days of leisure and laughter, Monday arrived, as did the DNP cohort to Juravinski Hospital (part of Hamilton Health Sciences), to learn about "Health Care Systems and Ethical Issues in Nursing Practice." Experts in the field from the University of Toronto, McMaster University and Drexel presented about the delivery of health care systems in Canada and the United States. Drexel students noted that the main difference in the two countries' health care was that Canada uses a single-payer system in which the individual providences are responsible health care expenditures.
"This was an 'aha' moment for me, as I expected the Canadian health care system to be so very different. They struggled with the same issues as America: LOS (length of hospital stay), readmissions, follow-up and home care," Weis explained.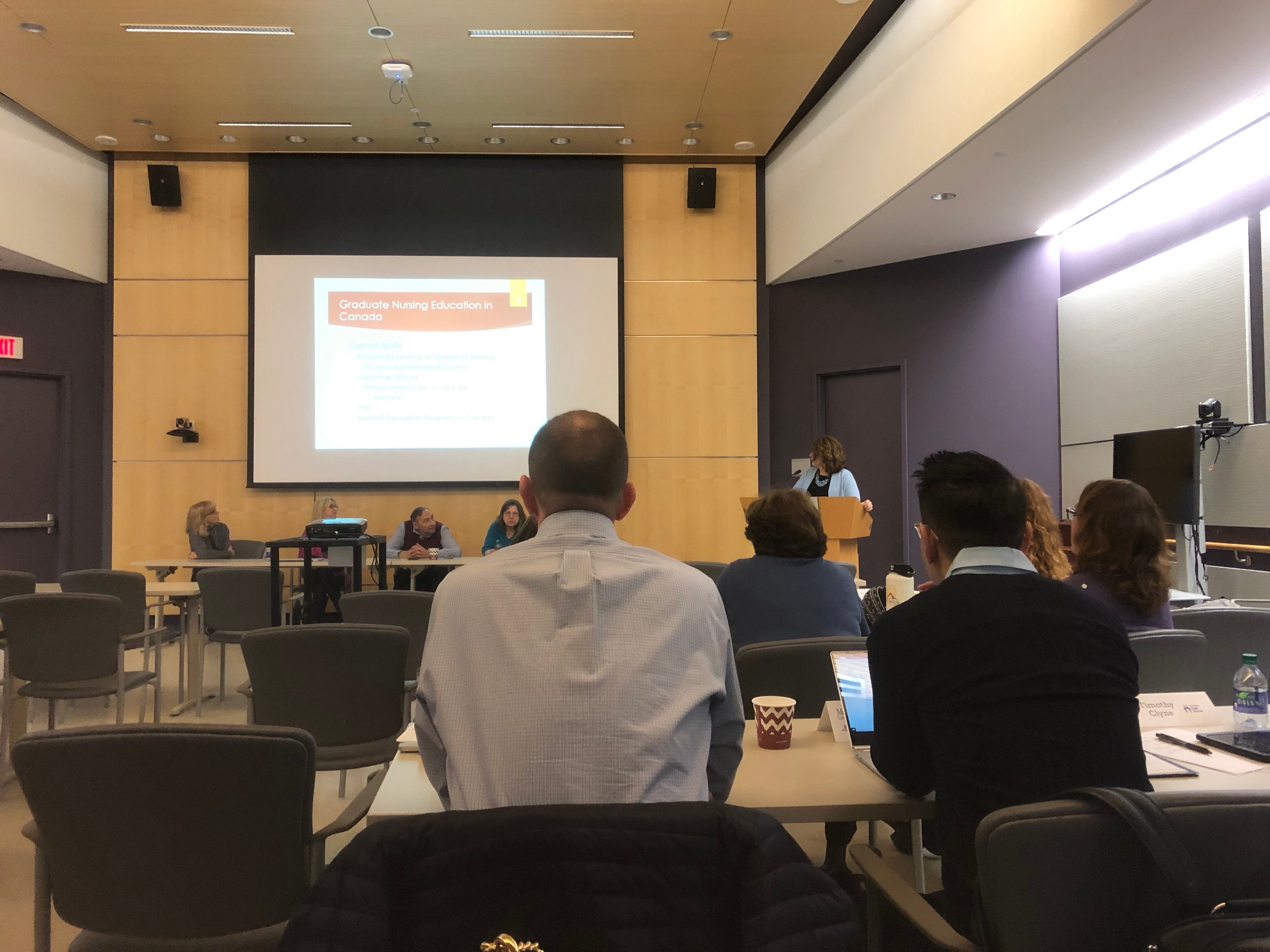 DNP students engage in a panel discussion following lectures on the Canadian and American health care systems at Juravinski Hospital. (Photo credit: Reese Williams)
In the afternoon, Dr. Sandra Andreycheck presented to the DNP cohort on the ongoing theme of ethics in health care. She covered a plethora of topics from the Canadian perspective including the APN role, the Medical Assistance in Dying (MAID) program, and cannabis use. It was these much-debated topics that prompted students to question their efficacy in the U.S.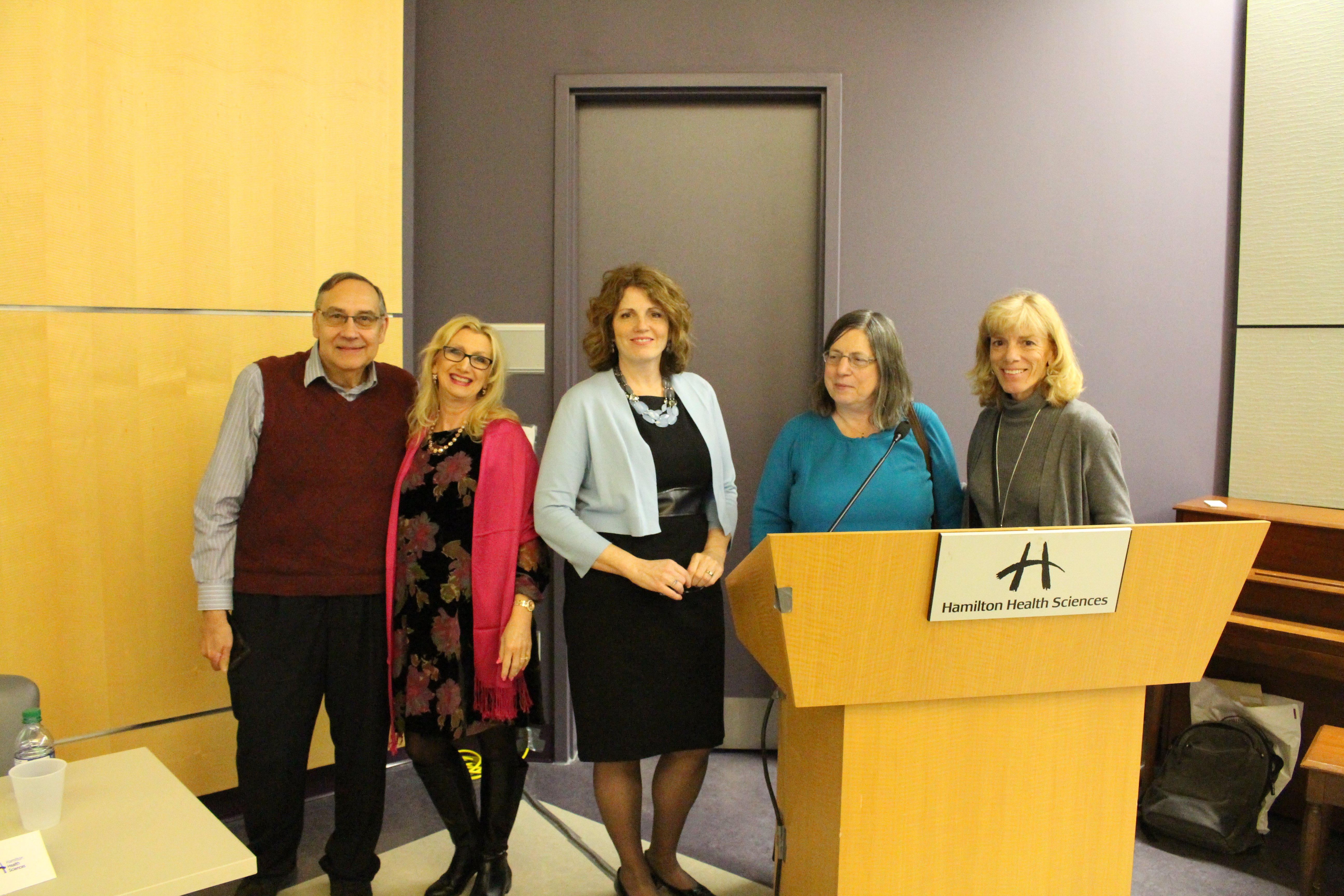 Dr. Albert Rundio (Drexel University), Dr. Brenda Douglass (Drexel University DNP Program Director), Dr. Nancy Carter (Assistant Dean at McMaster University), Dr. Deber Raisa (University of Toronto) and Dr. Susan Solecki (Drexel University) at Juravinski Hospital. (Photo credit: Reese Williams)
the presentation and subsequent panel discussions, the group was taken on a guide tour of the cancer center. Brant shared, "The tour of the cancer center at Juravinski Hospital was exciting to see the amount of work and compassion that has gone into caring for patients with cancer."
Tuesday, April 30
On Tuesday, the DNP class returned to Juravinski Hospital where they interacted with presentations that covered the theme, "Innovations in Advanced Practice Nursing at HHS (Hamilton Health Sciences)." Dr. Denise Bryant-Lukosius of McMaster University led a presentation on Oncology Advanced Practice Nursing (OAPN) and the Clinician Scientist Role at Juravinski Hospital. Other topics covered by a variety of Hamilton Health Systems included the Hospital-to-Home policy, the Interprofessional Practice Model, the SHINGO Model, Magnet Hospitals, the RESSCU Model of Care, the APN Indicator Project and the Synergy Model. Yvette Banks, a DNP student at Drexel University, viewed this as a great example of how DNP-prepared nurses can deliver care within the Canadian health system.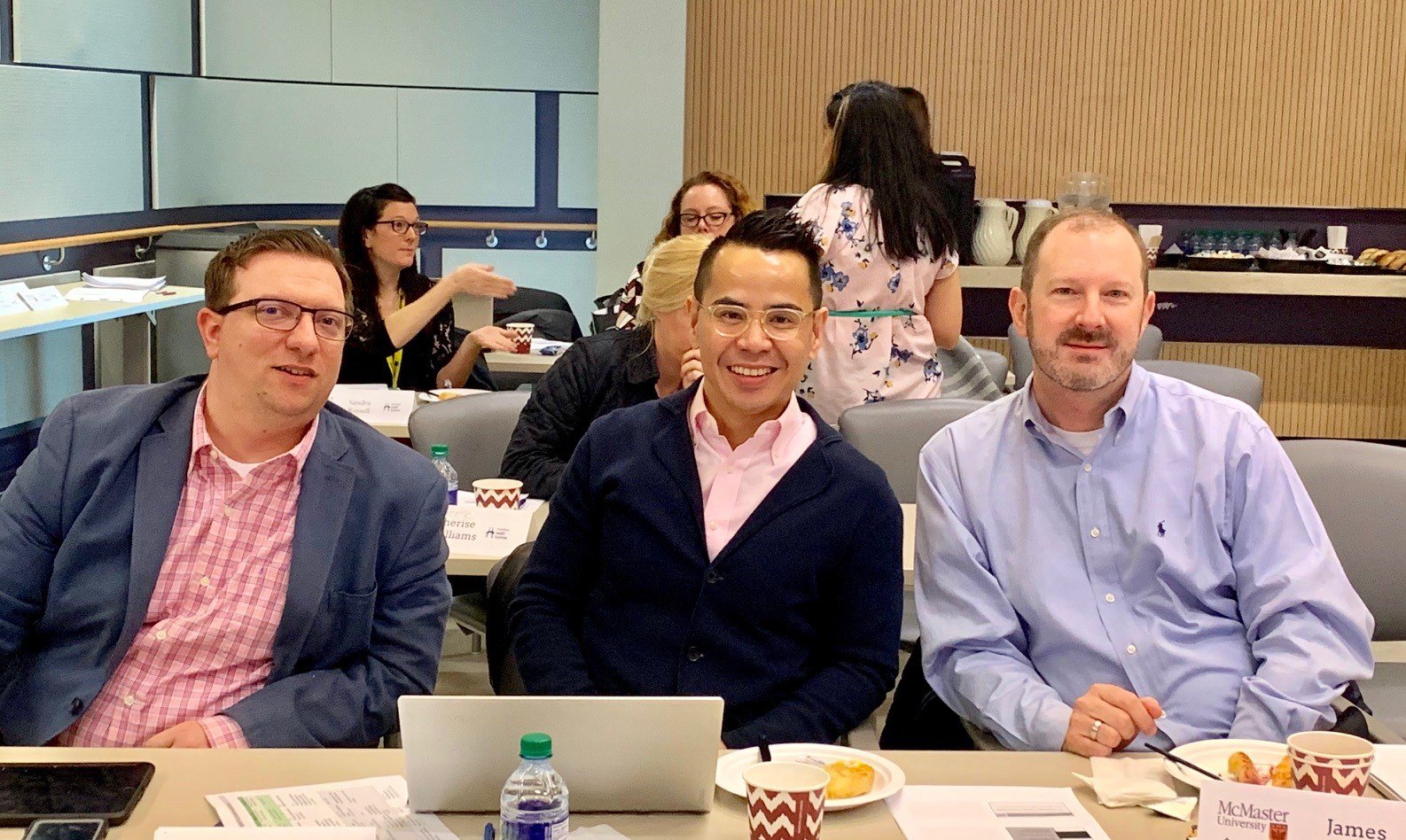 DNP students Timothy Clyne, Christopher Acebedo and Scott James at Juravinski Hospital. (Photo credit: Reese Williams)
Again, students identified similarities among Canadian and American policies.
"In my opinion, the USA and Canada may have different approaches and funding streams to solving health care issue, but the presentation demonstrated that reducing readmissions is a global issue," Banks explained.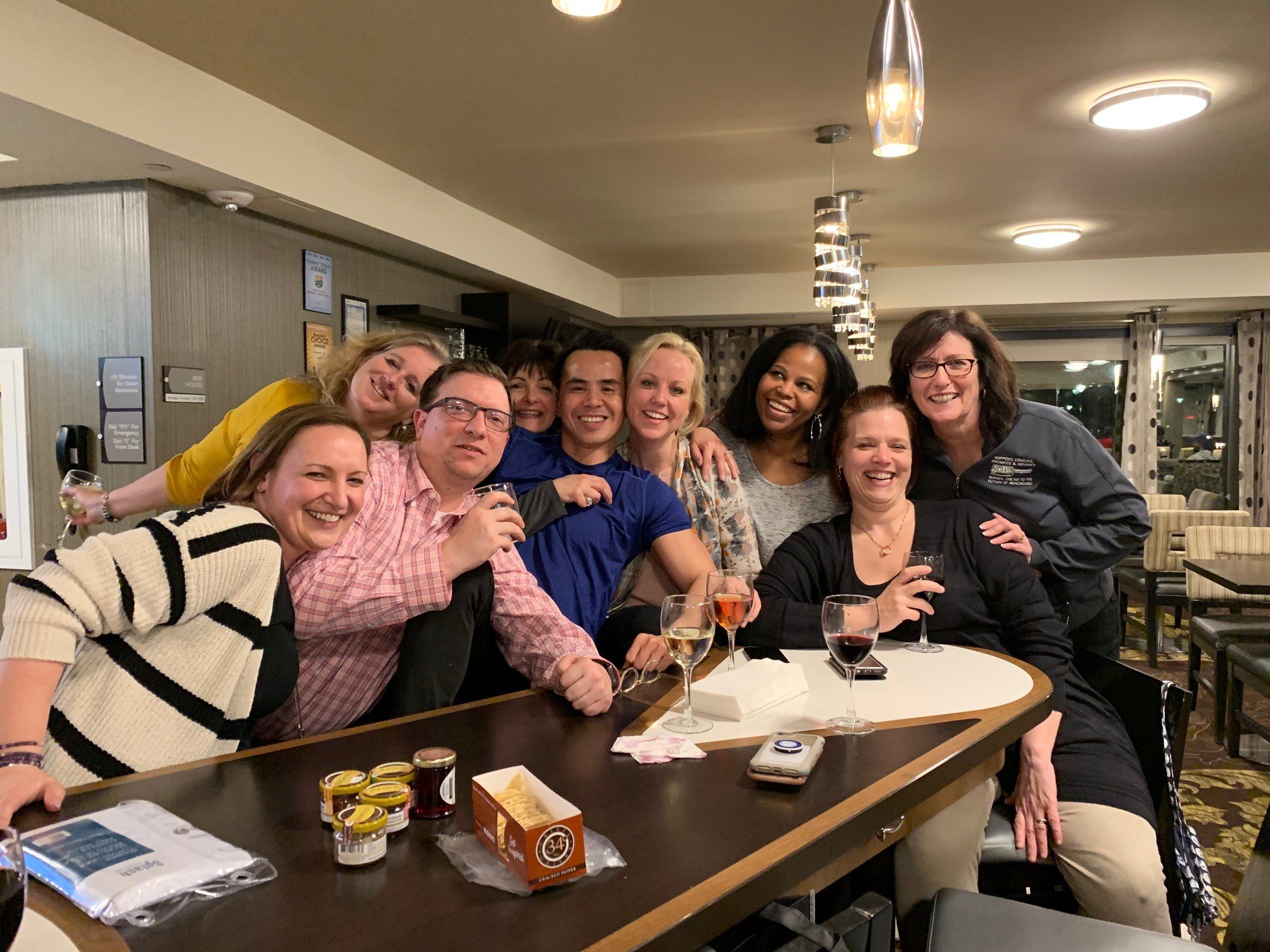 After a long day of lectures, students relaxed by hosting their own wine and cheese party. (Photo credit: Beatrice Leyden)
Wednesday, May 1
McMaster University, the birthplace of evidence-based medicine, hosted Drexel's DNP cohort for lectures on leadership, a knowledge exchange, discussions on innovations in care and interprofessional networking. During the afternoon session of their first day at McMaster, students from Drexel's DNP program and PhD students from McMaster participated in an interprofessional knowledge exchange session that covered a diverse range of research projects
Drexel DNP student graduate, Jessica L. Mendez, shared a great insight on this knowledge exchange among her classmates saying, "We are already the ones driving our health system forward and making major change. This isn't an idea to come, or a goal of graduation, it has been an ongoing success for years within the DNP program."
Further discussions consisted of Dr. Ruth Lee speaking on leadership and management theories and Dr. Michael McGillion, of McMaster University, and Carly Oulette, a McMaster PhD student, who presented their amazing research on "Innovations in Care: Smartview Technology."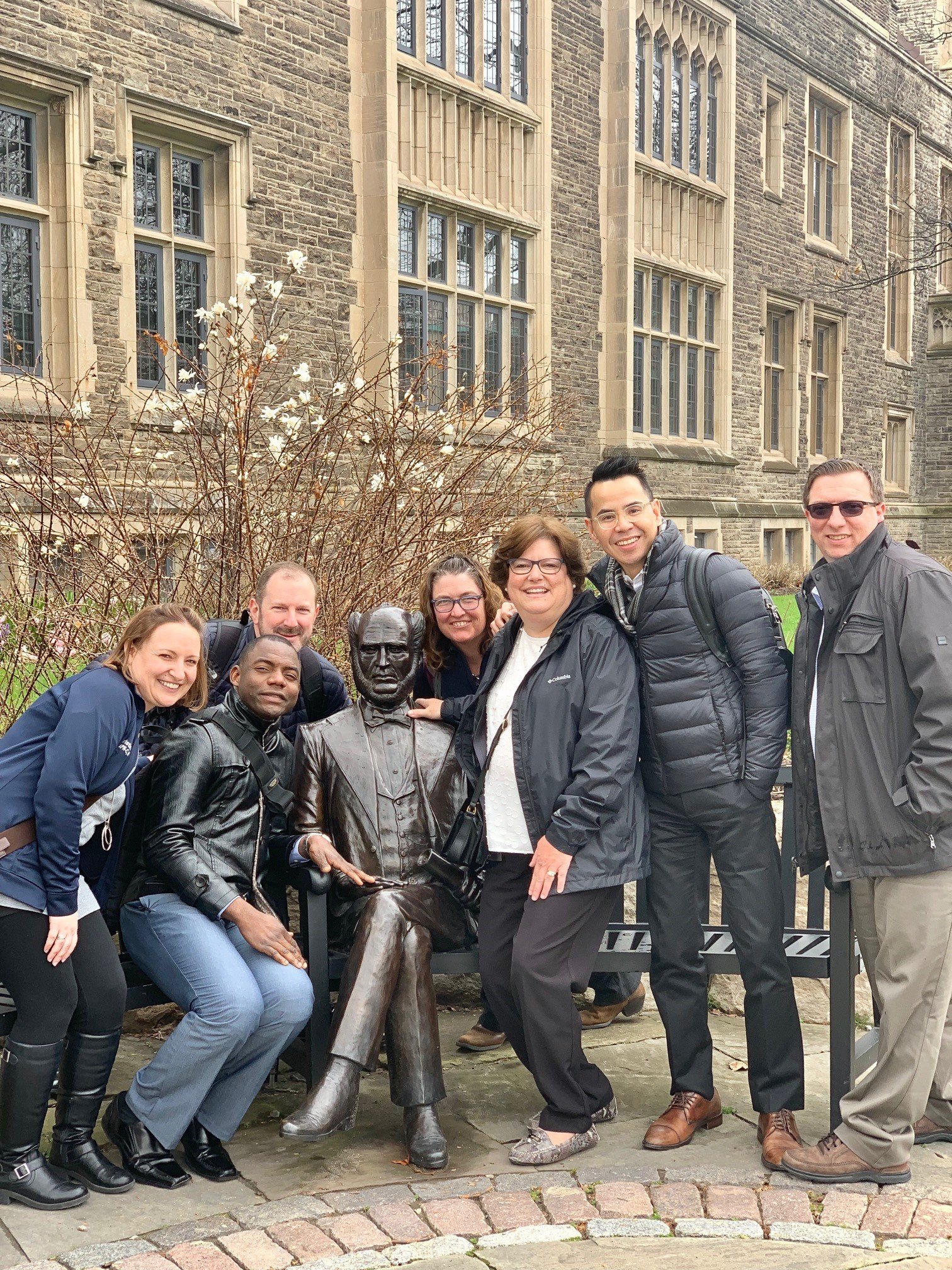 A group of Drexel DNP students poses with a statue of William McMaster. (Photo credit: Christopher Acebedo)
Thursday, May 2
"Research rounds" were the theme of the second day at McMaster, as lecture topics spanned "Canadian Centre of Advanced Practice Nursing (CCAPNR): Future Outlook" by Dr. Denise Bryant-Lukosisu and Dr. Nancy Carter and "Mobilizing Clinical Research: From Inception to Practice" by Dr. Diana Sherifali and Holly Tschiart.
These presenters struck a chord with DNP students. Theory is one thing, but practice is where nurses can make a real impact. Esther Brant explained it best saying, "…putting evidence into practice…there are a lot of projects being done, but if the research is not brought to the bedside nurses and patient care, then we are wasting our time."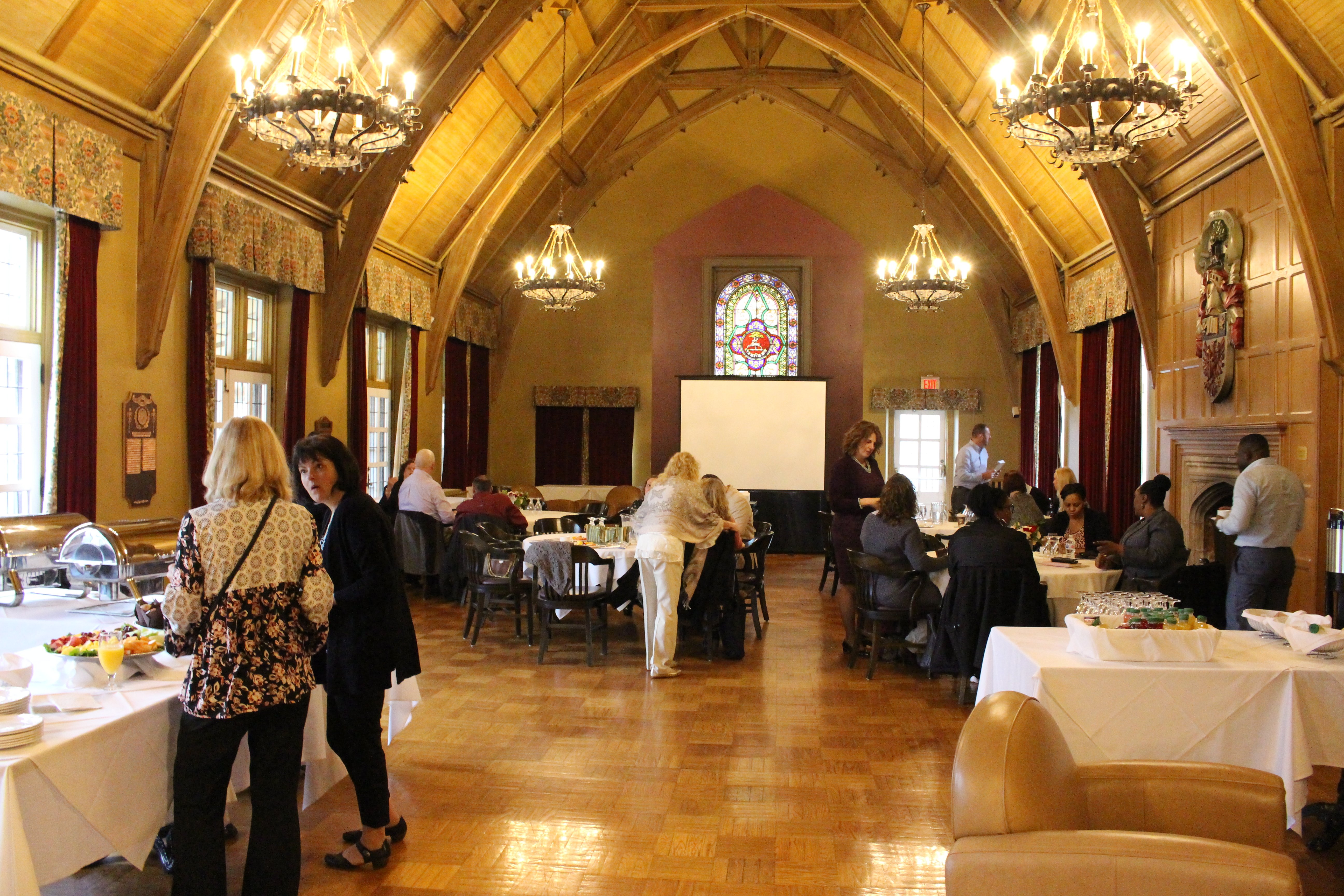 DNP students and faculty were treated to a luncheon at McMaster University. (Photo credit: Beatrice Leyden)
Friday, May 3
As Drexel's DNP students and faculty departed from their gracious hosts in Hamilton, Canada, the cohort admitted they were sad to part ways. Despite being online students, a bonding took place, and students were optimistic, pointing to virtual ways of keeping in touch like Zoom and Skype calls.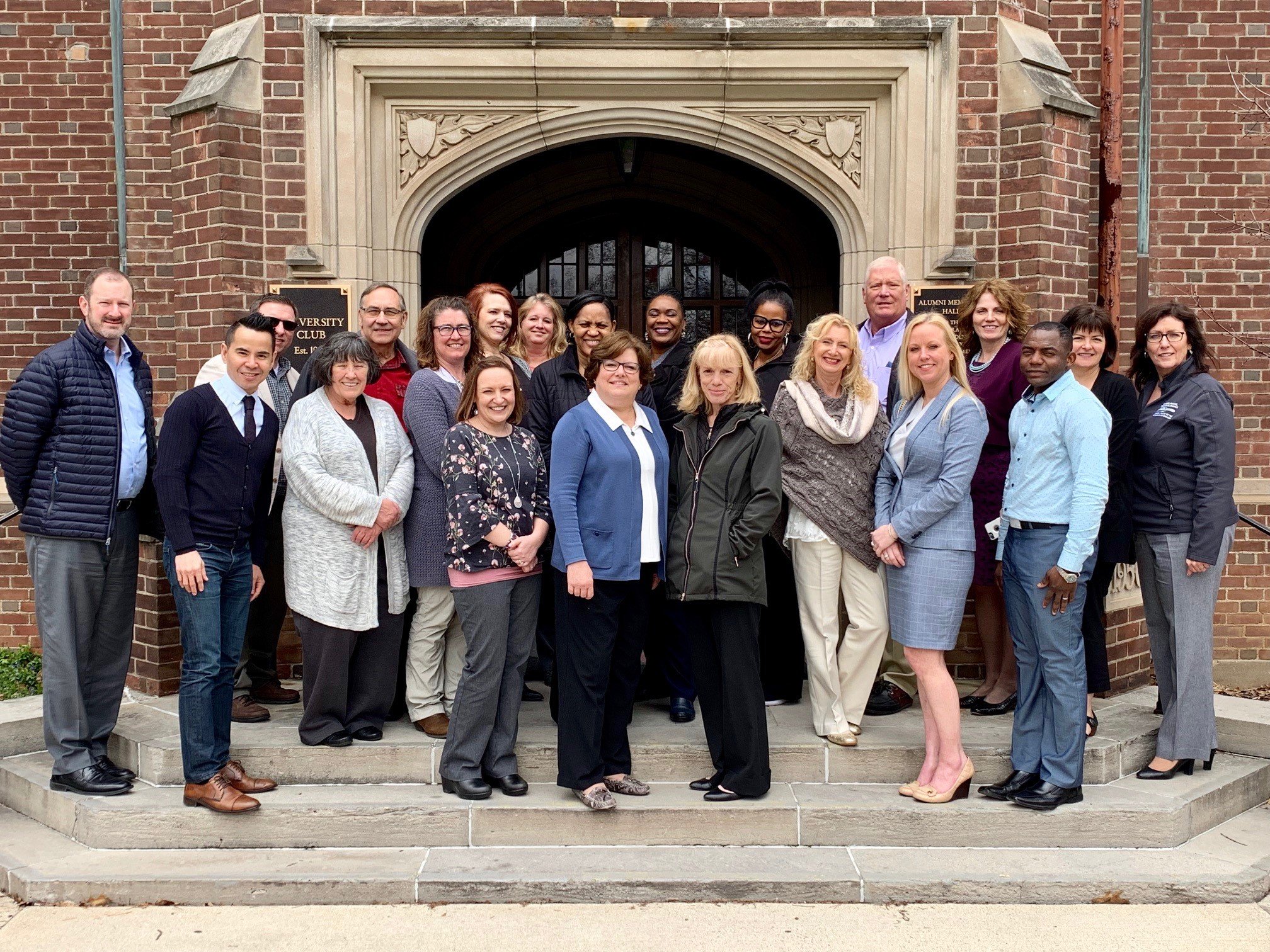 DNP students and pose on McMaster University's campus. (Photo credit: Beatrice Leyden)
"Continuing education should be a part of every nurse's professional life but it takes a concerted effort and focus," said Scott James.
"Despite the care delivery models, the same social and logistical issues may be present due to the humanistic nature of what we do as nurses. If we do not address the fundamental needs of society or community, we cannot fulfill healthcare for all," said Timothy Clyne, DNP Student Ambassador.
"Whether it is in appropriate staffing, home care, disease management or any of our projects, we are impacting care. It's important work. I feel energized and motivated to continue the expectations of a DNP. It was a fantastic experience and changed me forever," said Jessica L. Mendez.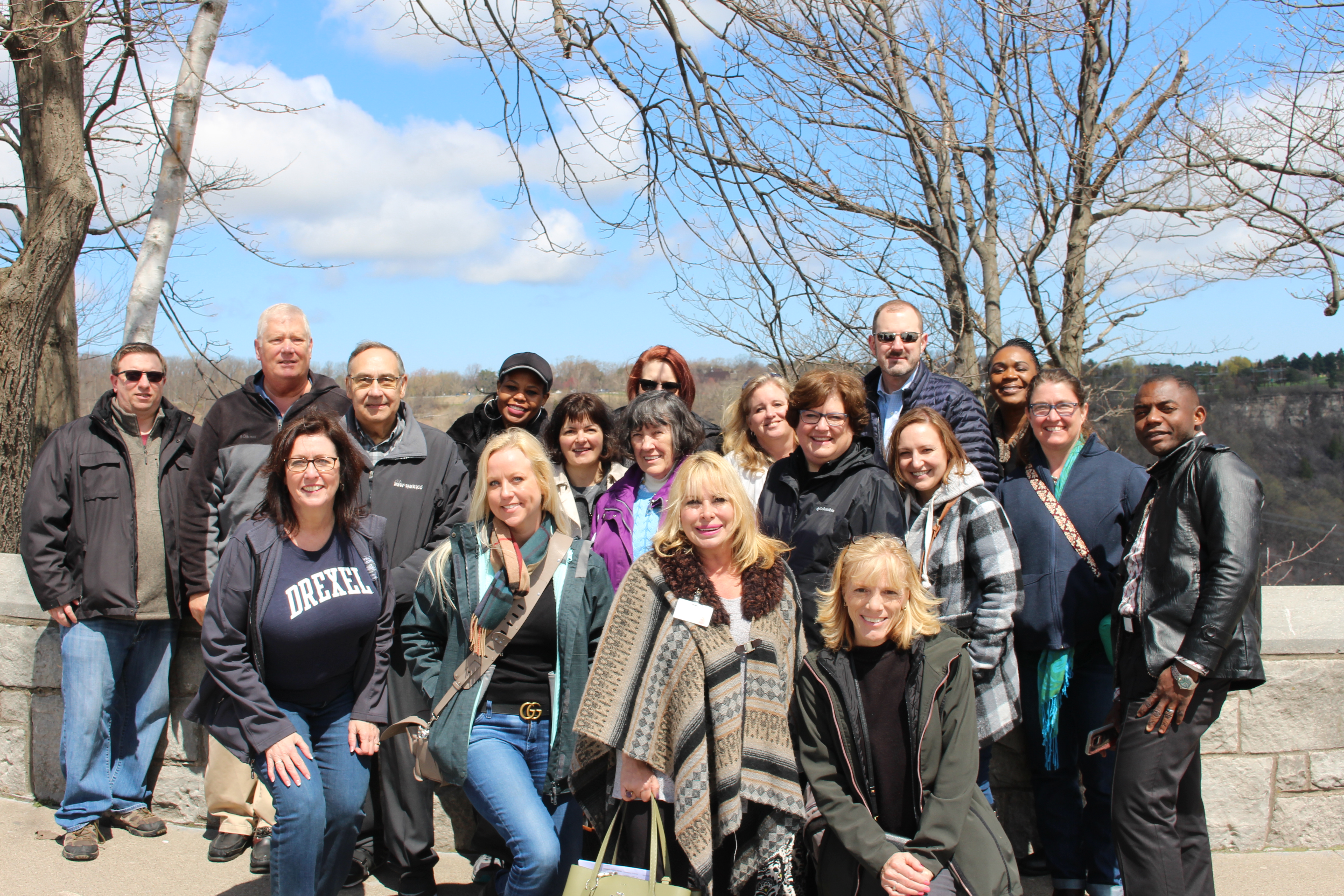 DNP students and pose on Niagara Falls. (Photo credit: Beatrice Leyden)
Designed for nurses seeking the highest degree for clinical nursing practice, Drexel's online DNP program offers opportunities that last beyond the virtual classroom. If you're interested in Drexel's online Doctor of Nursing Practice program, click here.