Drexel Grad Pitches Invention on ABC's "The Toy Box"
Tuesday, April 25, 2017
What do dragons and dolls have in common?
A pioneer in the toy industry, Darla Davenport-Powell.
An alumna of Drexel's MS in Higher Education program, Davenport-Powell recently appeared on the premiere of ABC's "The Toy Box," a show similar to "Shark Tank"—with a twist. Inventors are challenged to pitch their toys to a panel of kids, and a finalist is chosen each episode for the chance to have their toy sold in Toys 'R' Us.
The NiyaKids Collection, Davenport-Powell's brainchild and ever-growing passion for nearly 35 years, features Niya, a singing, multilingual African American doll, and her six multiethnic friends. "The Toy Box" gave Davenport-Powell and the NiyaKids a national platform to share their story; however, this wasn't their first rodeo.
It all began 1984, when Davenport-Powell collaborated with illustrator Maurice Jenkins to create the Niya character in the image of her daughter of the same name.
"My husband and I went looking for dolls and books and toys that reflected our culture and reinforced what we were teaching her and we didn't see them," she explained.
Davenport-Powell wasted no time and within a year, she had self-published a book and cassette titled, "Here Comes Niya." The beginning of Niya's journey, "Here Comes Niya" shares stories through the eyes of the toddler as she explores her world with the help of her parents.
"It's not only necessary for Niya to see herself reflected in the books she reads or the TV shows she watches or the toys she plays with, but [for] other children as well," Davenport-Powell said. "We created 'The Wonderful World of Imagination.' We went to schools, daycare centers, museums, and we shared the story of Niya with children to inspire them to read, write and tell their own stories."
In 1991, with the help of a grant, a partial loan and an ad in Essence Magazine, Davenport-Powell and her husband, Wayne, started a doll factory in their basement for mail orders across the U.S.
In 1994, when the real Niya was 11, she wrote to former President Clinton asking if she could meet Nelson Mandela, who had just been elected as president of South Africa. Her letter proved effective as Niya and her family were invited to the inaugural meeting of the two presidents and a private luncheon with President Mandela himself. Upon meeting, Niya gave him a Niya doll with a note that said, "To the children of South Africa, keep believing."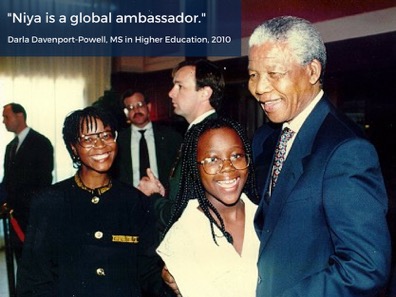 Davenport-Powell then shared her global goal for the Niya doll. "I promised President Nelson Mandela I would do everything that I could to make available the Niya doll to any child in South Africa who wanted the Niya doll."
In 2006, Davenport-Powell took a huge step toward accomplishing that goal. A stay-at-home mom at the time, she had heard Simon Cowell on the radio talking about his upcoming "American Inventor" show.
Reflecting back, Davenport-Powell admitted, "I didn't know what kind of show it was, all I knew was that it would be an opportunity for my Niya doll collection to have a world stage."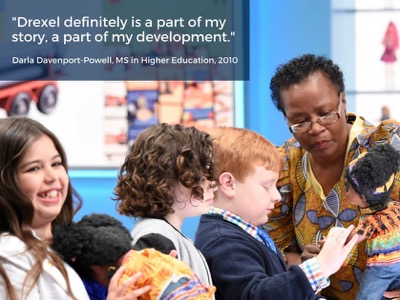 Photo credit: ABC/Jeff Neira
Starting with 10,000 inventors, the field was cut to 500 to 50 and then to 24, before the 12 finalists each received $50,000. Davenport-Powell was one of those 12.
She described the opportunity as "an inventor's dream," adding, "I mean it was incredible. We had focus groups, we had industry experts right at our hands, and there were inventors who shared a common bond and spoke the same language."
"American Inventor" allowed Davenport-Powell and her Niya doll to shed some light on the importance of teaching diversity and inclusion to today's youth. Inspired to do just that, Davenport-Powell then decided to further her education as a dragon. As part of the inaugural class for Drexel's MS in Higher Education program at the former Sacramento campus, Davenport-Powell remembers the course that helped solidify the path she would take.
"[The] Diversity in Higher Education [course] allowed us to step outside of our comfort zone and walk in the shoes of other people," she recalled.
In 2010, the same year she graduated from Drexel, the NiyaKids Collection was born as Davenport-Powell added three new multiethnic dolls to her product line. Niya's friend Jake, who navigates his life in a wheelchair, is one of the latest additions.
On April 7, 2017, millions of viewers tuned into the premiere of ABC's "The Toy Box" as Davenport-Powell and her NiyaKids Collection took the stage.
Though she was not selected as a finalist, the show was an opportunity for Davenport-Powell to illustrate her belief that what makes us different, also makes us special.
"It's necessary for people who have a dream to hold onto it, guard it and not to abandon it nor jump ship before time. The dream encompasses more than you. As the Niya journey unfolds, it's very clear that this dream is bigger than me."
Educator. Inventor. Change Agent. Dragon. Meet Darla Davenport-Powell.
Follow Davenport-Powell and the NiyaKids Collection at www.niyakids.com, www.inventingdarla.com and @Niyakids on Twitter and Facebook.
Learn more abou Drexel's MS in Higher Education program.