Faculty Spotlight: Ebony White's Journey to Behavioral Health Counseling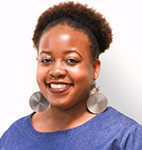 Friday, December 01, 2017
For Ebony White, PhD – assistant clinical professor in Drexel's online BS in Behavioral Health Counseling – her career choice was "written in the stars," thanks to her mother, a lifelong community volunteer with a "heart of service."
White grew up watching her mom work the neighborhoods of Trenton, N.J., as a volunteer in an HIV/AIDS clinic. Determined to follow her example, White discovered her own pathway to service after taking a high school psychology class. She went on to earn a dual-degree in psychology and communications from Michigan State University, and returned home to work as a counselor in the prison system – an eye-opening experience.
"It didn't take me long to realize that my degree hadn't actually prepared me to do the work. I had lots of theoretical knowledge, but no practical counseling skills," she recalls. "In fact, they expected me to use a therapeutic model I had never studied in school, with a caseload of 28 clients and nothing more than two weeks training in self-defense, CPR and handling bodily fluids."
Although challenging, the job motivated White to complete a master's degree in mental health counseling, followed by a doctorate in education counseling and guidance services, both of which provided a solid foundation for her current faculty role. White also shifted her professional focus from incarcerated adults to urban youth, living in communities riddled with poverty and violence, and has since honed what she calls her "strengths-based approach to counseling."
"Kids growing up in these communities have figured out how to survive very difficult circumstances in life; which means they have real strengths that often go unrecognized. So, by helping them get in touch with those strengths, we enable them to build a positive self-identity, which leads to healthier behaviors."
White believes that language plays an essential role in changing the way these children view themselves and their situations. For example, she promotes self-descriptors like "at promise" in place of "at risk," and "capable," rather than "coping." Likewise, White advocates for educational practices that are not only more culturally inclusive, but also more sensitive to the realities of home and community environments.
"It's hard to do well in math when all you can think about is the yellow crime tape you passed on the way to school. And the prevailing attitude in schools is 'you just need to deal with it and move on,' which only reinforces uncomfortable feelings. That's why we need to teach life, right along with all the other subjects; to openly acknowledge and discuss feelings and realities, rather than ignoring them."
White's work with urban youth has also inspired a groundbreaking behavioral health theory, which she is currently pursuing through research at Drexel, in conjunction with Sailume Walo-Roberts, an adjunct professor at Montclair State University. Put simply, she believes that while these children often do exhibit some symptoms of post-traumatic stress disorder (PTSD), they, in fact, struggle with a very different mental health condition she calls persistent traumatic stress disorder.
"Soldiers experience war as a traumatic event, which they leave behind by coming home. But for the kids I work with, the trauma is persistent and pervasive; an ongoing reality. So, their mental health issues are often misdiagnosed, and standard PTSD treatment regimens just aren't effective."
That's why she is intent on researching and developing a treatment approach that will work for this, more persistent form of the disorder – one she can empower her students in the online BS in Behavioral Health Counseling program to use, in addition to other, evidence-based models she teaches. For White, the program's focus on translating theory into practice is what makes it so unique.
"Looking back on my own experience, I know that students who earn this degree will be much better prepared to work as counselors, than I was coming out of an undergraduate psychology program."