Freelancing your way to Career Success (Part 1)
Tuesday, May 10, 2016
In the age of "plug and play" talent and technology, career experts say that the freelance – or "gig" – economy is not only heating up, it's here to stay.
In fact, annual freelance earnings worldwide are moving north of $715 billion – which is more than the combined value of Facebook, Walmart, Amazon, Starbucks, and McDonald's. In the U.S. alone, a staggering 53 million workers – over a third of the workforce – now call themselves freelancers, defined as independent contractors, who work on-demand. Even more impressive, that number has grown by 700,000 in just the last year alone.
A Better Way of Doing Business
Not surprisingly, businesses of all sizes and types are running to jump on the freelancing bandwagon, with corporate giants like Microsoft now embracing a "shadow workforce," of around 71,000 contingent workers (more than two-thirds of its 100,000 employees). 
For large companies, on-demand employment offers a way to acquire the talent they need, for as long as they need it, without carrying the permanent expense of salaries and benefits.  It also enables startups and small businesses to scale quickly and cost-effectively, by using freelance experts to test-drive new approaches and complete essential growth projects.  
Freelance vs. Contract Work
Although millennials are by far its largest cohort, the gig economy appeals to workers of all ages. While some see freelancing as an income source as they job-search, most have left steady employment to work independently with the clients they prefer.  Among the older generation, freelance consulting is also a good way to put hard-earned expertise to work in retirement.  
But regardless of the motivation, freelancing allows us to hone our special skills and build our experience base, while turning our passion into a viable business.  Equally impressive, the pay is often comparable to – and sometimes more than – what we can earn in a traditional job.   And as the need for freelancers continues to grow, experts predict that their earnings will rise.  
The Many Flavors of Freelancing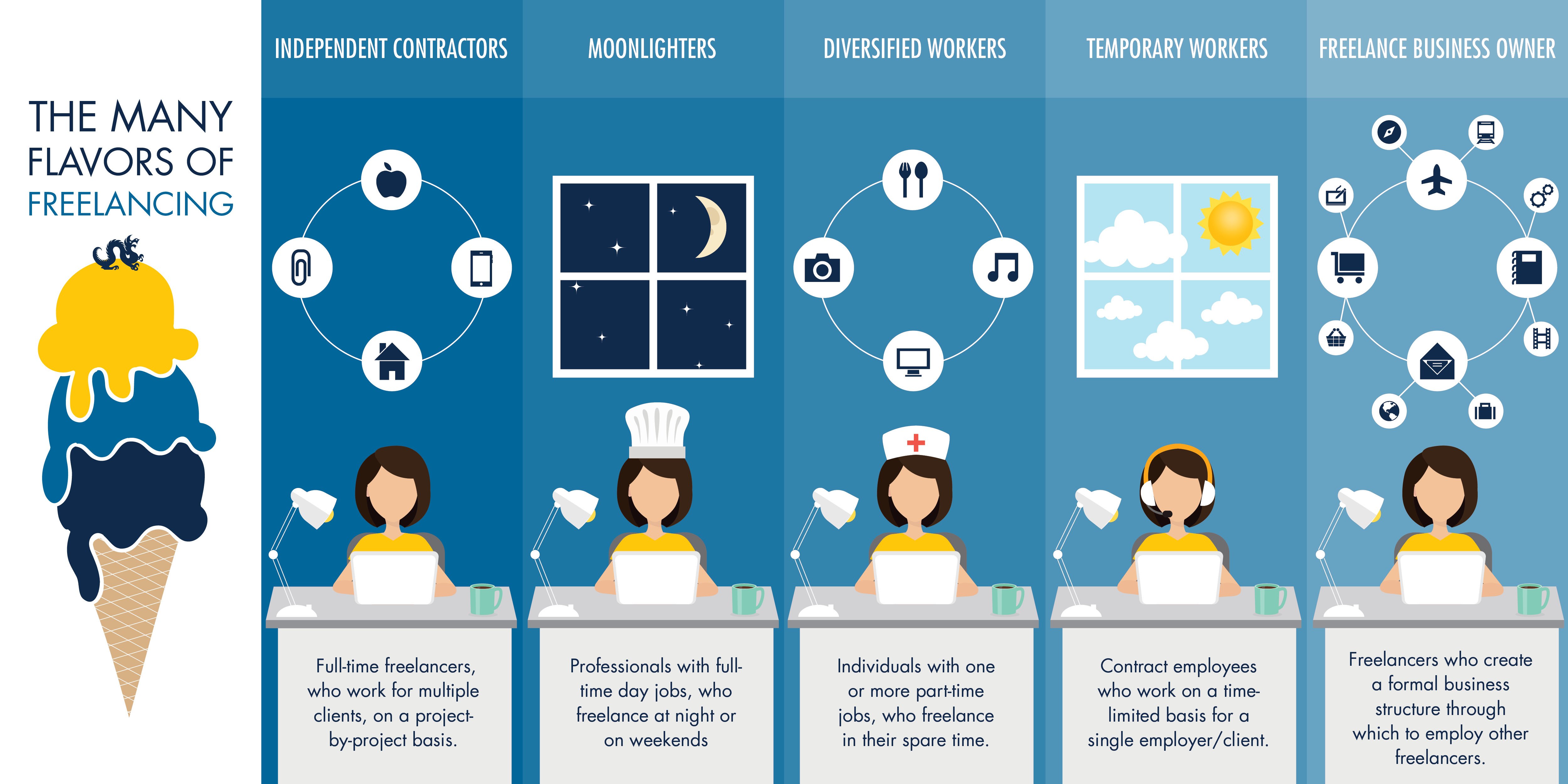 As with most industries, the freelance business is far from monolithic, with on-demand workers now falling into five basic categories: 
Independent Contractors:  Full-time freelancers, who work for multiple clients, on a project-by-project basis
Moonlighters: Professionals with full-time day jobs, who freelance at night or on weekends
Diversified Workers:  Individuals with one or more part-time jobs, who freelance in their spare time
Temporary Workers:  Contract employees who work on a time-limited basis for a single employer/client
Freelance Business Owner:  Freelancers who create a formal business structure through which to employ other freelancers.          
While there are independent contracting opportunities in nearly every field, the most lucrative skillsets include writing, digital marketing, Internet research, and website development; programming, graphic design, accounting, and business. 
Talent Platforms and Collaborative Networks
Of course, no career option is perfect; and freelancing does have its downsides.  Chief among the complaints are keeping steady work and fighting isolation.    
In addressing the first, there are now a growing number of websites – both free and by subscription – that pair talent with clients.  While sites like Upwork, Elance, and Toptal cover the gamut of skillsets, there are also platforms that specialize.  For example, Peopleperhour and GetACoder are great online resources for web-project contracts – from development and design, to SEO and content writing.  And HourlyNerd connects companies with experienced business consultants. 
As for addressing the loneliness factor, there is an increasing number of physical co-working locations, where freelancers can share office space whenever they want.  Needless to say, this option has also paved the way for collaborative work teams that mix and match their skills when bidding on projects.