Drexel Online & BeeBe Healthcare Partnership Provide Tuition Discounts
Wednesday, April 05, 2017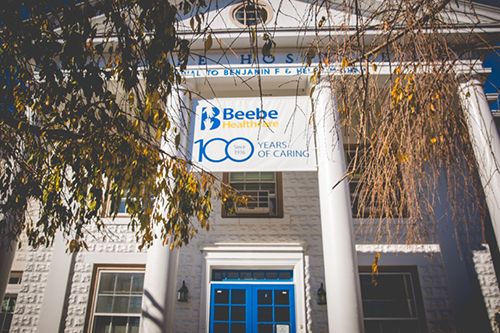 Lewes, Delaware: A charming little beach town with a lot of pride. As citizens of the first town in the first state, Lewes residents know a thing or two about history. Take a drive down Savannah road, and you'll pass a colonial-looking white building proudly displaying a marker of its longstanding place in the community. This is Beebe Healthcare.
As the largest employer in the area and the only hospital around, Beebe has served both town residents and the swarms of visiting beach-goers for the last 100 years.
---
At Beebe, history and innovation intersect. Employees are encouraged to pursue continued education, in order to stay informed on the latest tools, trends and thoughts in the industry—no matter what department they work in.
Enter Drexel University Online. Beebe Healthcare is one of Drexel's partners, which means that their employees receive tuition savings on the University's online programs. Keep scrolling to learn about four employees—on four very different paths—who call themselves Dragons.
---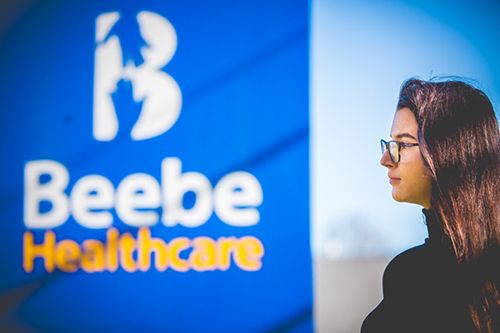 These digital Dragons have devoted their lives to different callings (communications, business, education and nursing), but they all exude a dual-pride in being a part of the Drexel and Beebe legacies.
---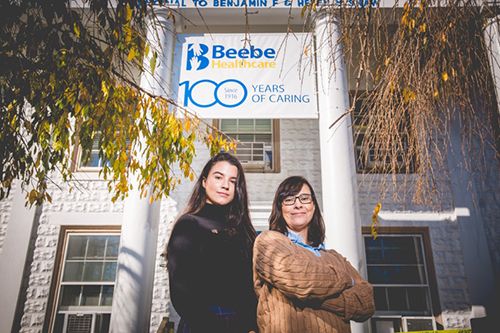 Sometimes, that pride even runs in the family. Case-in-point: Laurie Ryan (right) and her daughter, Lang. Akin to Lewes' version of the "Gilmore Girls," Laurie and Lang are known for organizing volunteer efforts and getting sweet holiday gifts for colleagues. Laurie was working in Beebe's administrative offices when she decided to attend a career fair. She wandered over to Drexel's table and the rest is history.
---
Beebe's grown a lot since it started 100 years ago, and now the charming original hospital building houses administrative offices. Here, Laurie Ryan, a benefits and employee health assistant, sits in one such office, surrounded by stain glass windows and her fish, Sushi. She's working on her BS in Communication, but most importantly, Laurie's working on herself.
---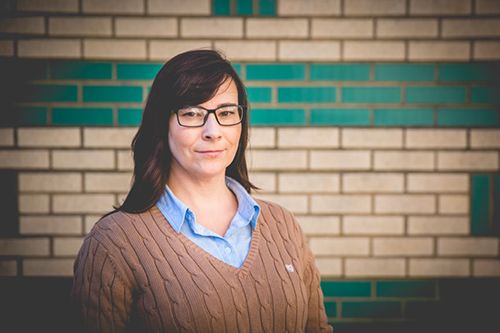 "Being a Drexel student really has become an integral part of who I am now. It's sometimes difficult to find your way in life…and that really starts to play with your self-esteem after awhile," says Laurie. "But now that I'm a Drexel student, that goes away because the playing field is even, and I've learned a lot about who I am since then. Drexel's a pretty tough school. So when you tell people that you're a Drexel University student, that you're a Dragon, their eyebrows go up a little bit and you can tell that they're impressed."
---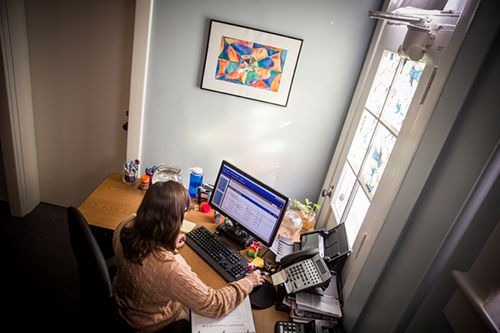 Relentless in her pursuit of knowledge, Laurie wanted to participate in Drexel's famous co-op experience on top of her full-time job and a full course load—a trifecta of achievement unthinkable for most uber-busy online students.
"One thing that Drexel taught me is if you have an idea, everybody's going to say no. You have to figure out a way to make things happen for yourself," she says.
Laurie worked with Drexel to identify what types of things on-campus students typically look for in a co-op and went ahead with creating her own co-op experience at one of Beebe's satellite offices.
---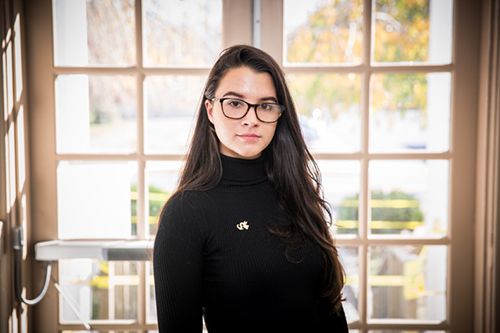 Aside from the physical resemblance, Lang Ryan also inherited her mother's drive. She began volunteering at Beebe Healthcare at 15 years old and once she was old enough, started working at the front desk. At 16, she started attending community college before eventually applying to Drexel's online BS in Business Administration program.
Lang, at just 20 years old, could be considered a Beebe veteran. Although she recently left the hospital with hopes of moving to Philadelphia and devoting her attention solely to her degree, she's still a recognizable face in the administrative building.
---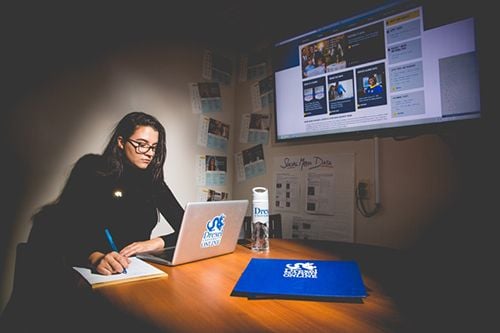 "Going to Drexel means a lot to me," Lang says. "It's a big part of my identity, really. You know, I love being a college student. I love saying, 'Yes! I go to Drexel!' It's a big deal and a big part of who I am. My grandkids are going to hear a lot about it."
---
Laurie began attending Drexel first, and since family members of Beebe employees can take advantage of a tuition discount as well, Lang soon followed suit. After a little encouraging from Laurie, that is. "I finally just said to her, 'Lang you've got to stop messing around here. Start going to a good school. Apply at Drexel,'" says Laurie.
---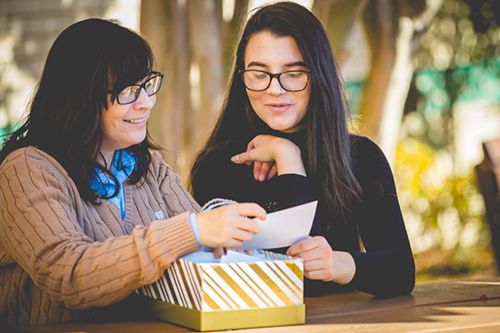 Now that Lang's officially a Drexel student, Laurie is one proud Mother Dragon.
"As students, Lang and I work together. We're a pretty good team as a family and a pretty good team as students. Once, we were in the same class at the same time and you know, there's a healthy level of competition there," Laurie smiled. "So we are definitely motivating each other but we are also there to help each other."
---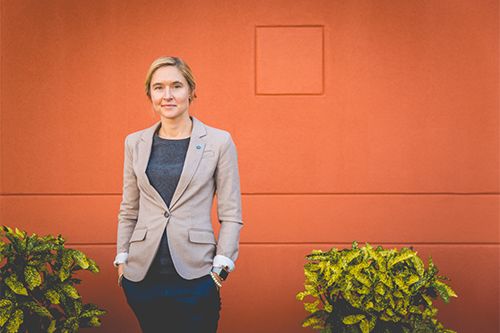 Just down the road from the Ryans, Nicole Hall takes some time out of a busy day of meetings to reflect back on the 14 years she's spent at Beebe. She began as a nurse tech before spending nearly a decade as a nurse on the Women's Health floor, working with mothers and newborns. It was there that she discovered a curiosity for teaching.
"When you're looking at new parents who are taking home a new baby, there's so much teaching to do, and I found that that was one of my favorite parts of taking care of maternity patients," she explains.
---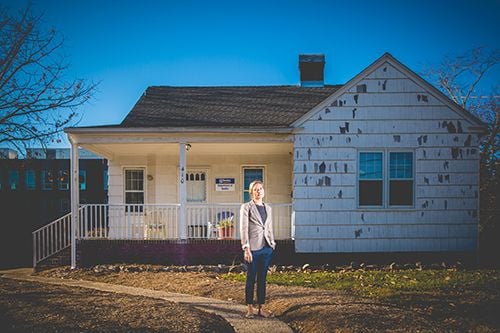 This discovery led her to start teaching at Beebe's in-house School of Nursing. These days, Nicole works in a tiny cottage behind the main hospital as an accreditation specialist in the department of quality, ensuring high-standards and safe patient care persist throughout the organization.
It was her time in the nursing school that inspired Nicole to enroll in Drexel's EdD in Educational Leadership and Management program, with hopes of becoming a professor of nursing in the future.
---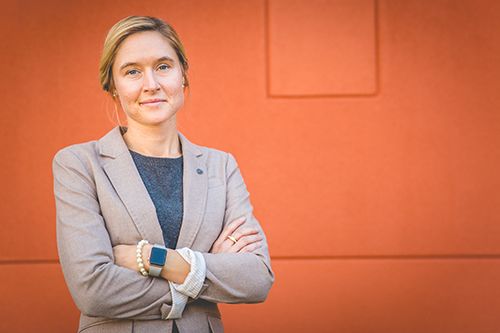 "I always tease that if I won the lottery, I'd be a lifelong student because I just love learning. I'm committed to being a lifelong learner. So any opportunities that arise that challenge me, that open me up to new experiences and new people, [I'm interested in]," she says.
Nicole's dreams came to fruition; she will soon be leaving her 'hometown hospital' to put her freshly-earned doctorate degree to use as an assistant professor of nursing at Salisbury University.
---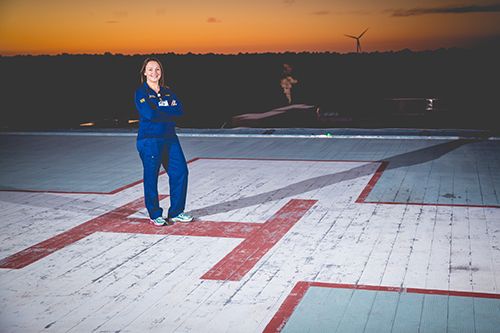 A tangerine sunset colors the sky in Lewes, but the day is far from over for Kendyl Davidson, an emergency room nurse at Beebe. Originally, Kendyl was on the path to become a teacher, but after spending some time as an EMT, ultimately found her calling as a nurse.
"You see patients on their worst day. So, if you can make their worst day just a little bit better by taking care of them, that really is a rewarding thing," she says.
A student in Drexel's online RN-to-BSN program, Kendyl juggles her classes and nursing schedule the only way she can: by working while the rest of us sleep.
---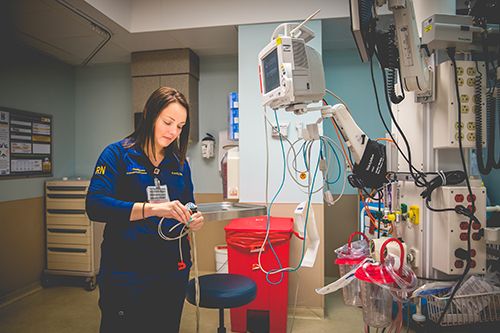 "I do a lot of night shift now so I'm able to either wake up in the mid-afternoon, do some homework, get ready and go to work; or when I come home, if it hasn't been too long of a shift, then I'll get some homework done before I take my nap," Kendyl says.
Such an enterprising schedule could overwhelm some, but not an emergency room nurse. "In the ER, you never really know what is coming next, and in life, you never really know what is coming next. So I've just found that if I remain calm, I feel like the patient is a little bit more calm. You just have to be ready for anything."
---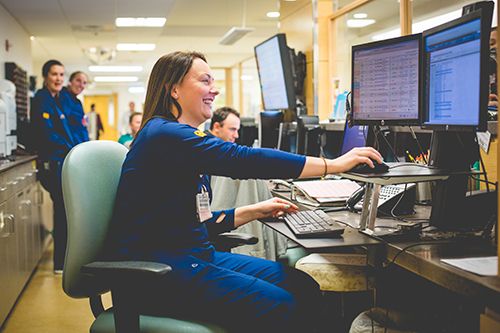 Her schedule might keep her busy, but for Kendyl—and Beebe—it's worth it.
"Drexel really focuses on patient-centered care. I'm actually doing a pathophysiology class this next quarter. So I'm really excited about that because it'll really help me to explain the pathophysiology of disease to patients that I may not be able to right now as a newer nurse." she says.
In major cities and small towns around the country, and the globe, Drexel students go about their daily routines, enriching the very communities they call home. Now that's a win-win.
Learn more about Drexel University Online's partnership program
---