New Online Doctorate in Educational Leadership and Management Available this Fall
Monday, March 11, 2013
New Online Doctorate in Educational Leadership and Management Available this Fall
March 11, 2013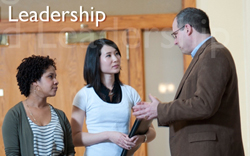 Drexel University Online and the Drexel University School of Education are pleased to announce the creation of the fully online Doctor of Education (Ed.D.) in Educational Leadership and Management program.
"Our Ed.D. is a singular program based on the Drexel philosophy that theory springs from practice," said William Lynch, dean of the School of Education. "Students are encouraged to challenge their own thinking within a group and venture beyond problem solving to a unique model of individual leadership that will become a lifelong pattern of professional communication and growth."
For several years, the Ed.D. program has been offered in a blended format that combines on-campus, executive-style weekend classes and online education. In addition to the blended option, the program will be offered in a fully online format starting this fall. It is ideal for principals, school superintendents, directors, K-12 and higher education administrators, as well as community-based, educational organizers who have already completed a master's degree. 
"Global forces, emerging technologies, and federal mandates are just a few of the challenges that are transforming education entities into increasingly complex organizations that require exceptional leadership," said Eric Hagan, senior program director at Drexel University Online. "Drexel's Ed.D. in Educational Leadership and Management offers an unrivaled path to career advancement during these evolving times in education."
Through collaborative discourse, action research, and the latest learning technologies, students acquire a facility in finance, leadership, management, creativity, and strategic thinking within the context of their individual education entity, university, and state. Students may choose from several concentrations, including educational administration, educational policy, higher education, human resource development, special education leadership, and athletic administration.
"The Ed.D. program prepares students to be leaders and advocates for educational reform," said Dr. Allen Grant, director of Educational Administration for the School of Education. "Offering the program entirely online allows us to provide students access to the rigorous education for which Drexel University is known, regardless of their location."
The online Ed.D. program is led by Grant, who has more than 20 years of educational experience, including 10 years as an early childhood teacher. Grant has held leadership positions with the Louisiana Department of Education and the Louisiana Board of Elementary and Secondary Education. His research interests center around emerging technologies, global studies, and leadership development.
The Ed.D. in Educational Leadership and Management is available starting this fall and is taught by nationally-recognized faculty from the School of Education. For more information on this program or to enroll, please click here.