Through the Prism: Is it the Work or the Workplace That's Getting you Down?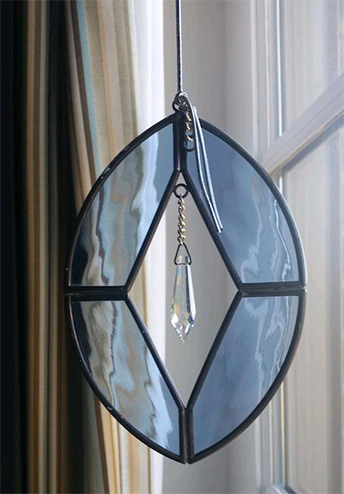 Wednesday, November 01, 2017
In this continuing series, "Through the Prism," Professor and Dean Emerita Gloria Donnelly shares insight, laughs, stories and tidbits in her own words.
"Life is like a prism. What you see depends on how you turn the glass." -Jonathan Kellerman
It was midway through the term when Kathy called, late in the evening when online students are usually engaged in their coursework. Given that I encourage all my online students to use the telephone to talk through an issue or problem, I did not consider her call unusual. But it was – Kathy was calling to tell me that she had decided to leave nursing and pursue her art as a business, making stained-glass objects. "What a loss to the profession!" I thought to myself. Kathy was a knowledgeable and thoughtful nurse, as well as a great student.
"Are you sure about this?" I asked. "Yes," Kathy firmly replied, "I hate going to work every morning to face the meanness and unprofessionalism and the lack of focus on patient care. I haven't spoken up at a staff meeting for months and when I have, the backlash has been extreme. It is time for me to move on, to find some satisfaction in work, and I think that developing a stained-glass business can do that for me."
I suggested that the current situation might not be representative of most work environments; that perhaps she needed to find a better fit for her values and practice ethic. Because Kathy had only a few courses left in her online program, I also asked about her educational plans. "I will complete this course," she affirmed, "and then I will make a decision about the future."
I have heard so many similar stories through my 20 years of online teaching – nurses that are driven to do their best, to improve themselves and their organizations, but who are worn down by negativity in the work environment. Most of these nurses stick it out and use their advanced education to maneuver through and even change difficult situations.
As a teacher, I have learned to listen to the stories, to question gently, to accept the student's perspective and ultimately their decision to either persist or to leave. Not many leave – but it seemed to me that Kathy would. I wished her well and asked that she let me know when her business was established so that I could be among her first customers.
The next call from Kathy came 18 months later on a sunny day in June. "Dr. Donnelly, I wanted you to know that I am graduating from the online graduate program in a few weeks. My family and I will be flying to Philadelphia for commencement and we would like to take you to breakfast."
"So how is the stained-glass business?" I asked.
On the morning of commencement, I met with Kathy and her family. She was still working as a nurse and had a new position in an oncology center. "I love the mission, the staff, the healthy environment and most of all, the excellent care we give to patients and families. I could not be happier. After talking with you last year, I did resign but took to heart your comment that my negative workplace was not the norm."
She handed me a gift box that held an original "Design by Kathy;" a prism surrounded by blue glass. "You got me to look through the prism and see things differently."
The prism hangs in my window and breaks the light into wonderful colors that dance on the walls. It is a reminder of the potential and power of the student-teacher relationship.