Online Master's Degree in Electrical Engineering Program
Master of Science in Electrical Engineering
Drexel University's accredited online Master's in Electrical Engineering program equips you for technically challenging careers in industry, research, and development. It is also ideal if you plan to continue to a PhD in electrical engineering or related fields.
A master's degree in electrical engineering readies you to make an impact in your workplace. You'll study to become a leader in robotics, computing, wireless communications, and beyond. Electrical engineers have gone on to have careers at companies such as IBM, Facebook, Schlumberger, Oracle, Lockheed Martin, Intel, Dell, Intuit, HP, and Cyberonics 2.
Master's in Electrical Engineering Online Program Features
45 credits
Rigorous study in Computing and Electrical Engineering
Option of taking electives from the Engineering Management Program and other graduate disciplines
Taught by experienced faculty who are also successful professionals in the electrical engineering field
Highly interactive online method designed to challenge and engage, while remaining convenient for working professionals
What Does an Electrical Engineer Do?
The world runs on electricity and technology – it's integrated into everything we do, from maintaining transportation grids to improving the microchip technology in our phones. Electrical engineers use their systems mindset to design, develop, test, and supervise manufacturing of electric cars, smart phones, GPS technology, and anything that uses magnetism and electricity.
What is a Master's in Electrical Engineering?
A Master of Science in Electrical Engineering is a professional master's degree. It is for bachelor's-prepared engineers who want to expand their skillset to include management and technical expertise.
Today's electrical engineers are innovators, managers, and problem solvers. With an MS in Electrical Engineering, you'll continue to build a strong foundation in theory. In tandem, you'll explore and understand new technology and trends in electrical engineering. This is also important if you are a forward thinker. Advances in technology will also produce a demand for engineers in the research and development phase.
What are the Requirements for a Master's in Electrical Engineering?
Drexel's online MS in Electrical Engineering requires completion of 45 quarter credits. You'll take at least 30 credits from among the graduate courses offered in Drexel's Department of Electrical and Computer Engineering. The remaining credits are electives which serve as a useful way to delve into your areas of interest or a specific career path. You may choose these courses from the following University departments:
Computer Science
Electrical and Computer Engineering
Engineering Technology
Project Management
Systems Engineering
Those who want to step into a managerial role may opt to take courses from the Engineering Management Program (MSEM). While not a requirement, the department encourages you to complete a master's thesis that may help you gain quality research skills. Choosing this thesis option allows you to count up to 9.0 research/thesis credits as part of your required credit hour requirements.
Do you Need a Master's for Electrical Engineering?
Many electrical engineers launch their career with a bachelor's degree. But technology is changing, bringing with it some new methods and ways of thinking. For those who want to further a career, there are at least three reasons to earn your master's as an electrical engineer:
A graduate degree allows electrical engineers to work as an instructor at some universities, or in research and development.
The average salary for an electrical engineer is generous, especially with a master's degree.
Work to make digital history. Twenty years ago, we did not have half the advanced technology of today. Thanks to skilled electrical engineers, we now have robot-assisted surgery, self-driving cars, full computers, and endless information in the palm of our hands.
What Can I Do with a Master's in Electrical Engineering?
With a master's degree in electrical engineering, you might pursue a career in a wide range of sectors including aerospace, automotive, energy, IT, or telecommunications.
The job atmosphere for electronic engineers is one of growth. The U.S. Bureau of Labor Statistics projects that from now through 2026, the demand for electrical engineers will rise by 9%. This is faster than in other industries.
There are several reasons for this. Technology is advancing at the speed of light, creating a need for more complex consumer electronics. This growth fuels the need for qualified electrical and electronics engineers in research and development. Here, the task of future electrical engineers will be to design distribution systems related to new technologies such as power grid infrastructure, solar arrays, semiconductors, automation, and communications.
Electrical engineers work in commercial, industrial, military, and scientific sectors. In these settings, they hold many job titles related to their function:
Circuits Engineer
Design Engineer
Electrical Controls Engineer
Electrical Design Engineer
Electrical Project Engineer
Instrumentation and Electrical Reliability Engineer (I&E Reliability Engineer)
Power Systems Engineer
Project Engineer
Test Engineer
Industries with the Highest Levels of Employment of Electrical Engineers
Electric Power Generation, Transmission, and Distribution
Electrical Equipment Manufacturing
Communications Equipment Manufacturing
Navigational, Measuring, Electromedical, and Control Instruments Manufacturing
Architectural, Engineering, and Related Services
Data from bls.gov
Master's in Electrical Engineering Salary Expectations
At last check, the average annual salary for a master's prepared electrical engineer is $124,404. But salary often depends on location, workplace, and experience. The following visualization shows electrical engineering salaries in the states with the highest employment level in this occupation: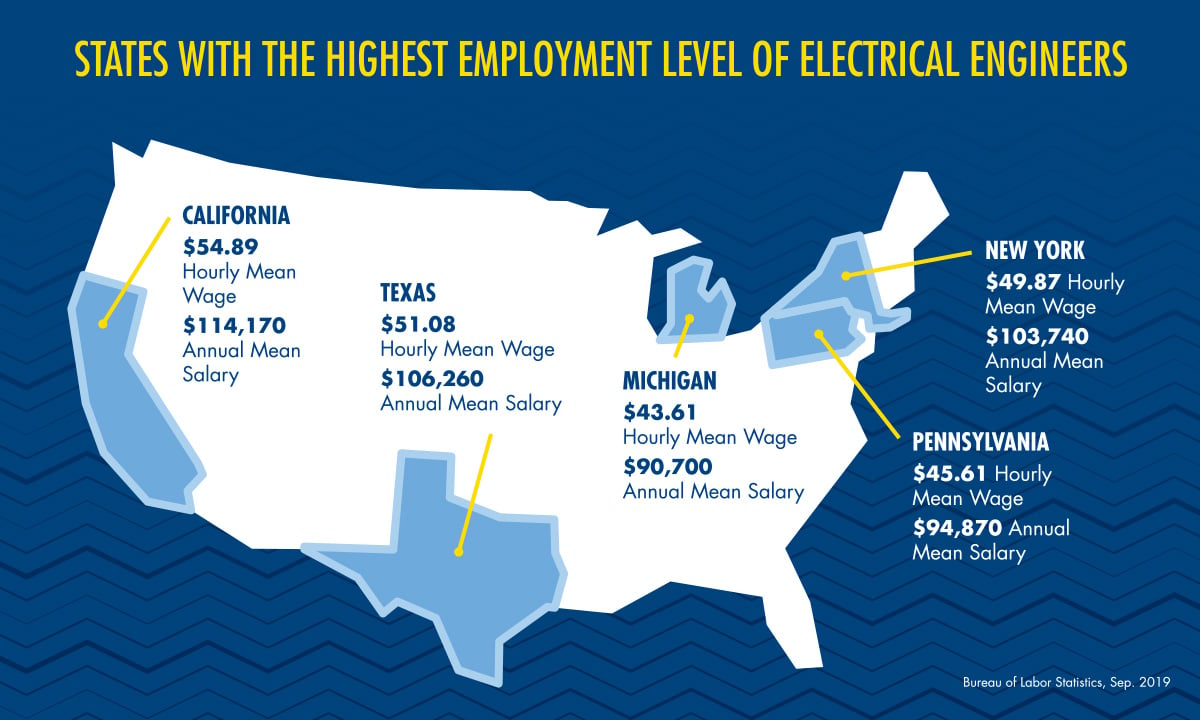 Data from bls.gov
Related Program
---
Drexel University offers a variety of Graduate Minors that can be added to any master's degree program.
State restrictions may apply to some programs.
Curriculum
This program is organized into four 10-week quarters per year (as opposed to the traditional two semester system) which means you can take more courses in a shorter time period. One semester credit is equivalent to 1.5 quarter credits.
The Master of Science in Electrical Engineering curriculum encompasses 45.0 or 46.0 (with the Graduate Co-op option) approved credit hours, chosen in accordance with the following requirements and a plan of study arranged with the departmental graduate advisor in consultation with the student's research advisor, if applicable. Before the end of the first quarter in the Department of Electrical and Computer Engineering, for a full-time student, or by the end of the first year for a part-time student, said plan of study must be filed and approved with the departmental graduate advisor.
A total of at least 30.0 credit hours must be taken from among the graduate course offerings of the Department of Electrical and Computer Engineering. These credits must be taken at Drexel University. No transfer credit may be used to fulfill these requirements, regardless of content equivalency.
The remaining courses needed to reach the minimum credit hour requirement for the degree program are considered elective courses. Elective courses can be chosen from among the graduate course offerings of the Department of Electrical and Computer Engineering; other departments within the College of Engineering; the School of Biomedical Science, Engineering and Health Systems; the Department of Mathematics; the Department of Physics; the Department of Chemistry and the Department of Biology. In order to have courses outside of these departments and schools count towards degree completion, they must be approved by the departmental graduate advisors prior to registration for said courses.
Please note that ECEC 500 Fundamentals of Computer Hardware and ECEC 600 Fundamentals of Computer Networks do not count toward the credit requirements to complete the MS in Electrical Engineering degree program.
Required Courses

Electrical Engineering (ECEE, ECEP, ECES, ECET) Courses at 500-900 level

21.0

General Electrical and Computer Engineering (ECE, ECEC, ECEE, ECEP, ECES, ECET) Courses at 500-900 level

9.0

Elective Courses

*
15.0
Total Credits
45.0
*500-900 level courses in the following areas: AE, BIO, BMES, CHE, CHEM, CIVE, CMGT, CS, ECE, ECEC, ECEE, ECEP, ECES, ECET, EGMT, ENGR, ENVE, ET, MATE, MATH, MEM, OPR, PHYS, PROJ, PRMT, SYSE
Options for Degree Fulfillment
Although not required, you're encouraged to complete a Master's Thesis as part of the program. Students who choose the thesis option may count up to 9.0 research/thesis credits as part of their required credit hour requirements.
Admissions Criteria
A four-year Bachelor's Degree in Electrical Engineering or related field from a regionally accredited institution in the US or an equivalent international institution

Examples of related fields include: Computer Engineering, Computer Science, Physics, Software Engineering, and Telecommunications Engineering
A Bachelor's in "Engineering Technology" will generally not qualify

A minimum cumulative grade point average of 3.0 for undergraduate work

Half-cumulative GPA (final 2 years of coursework) will be considered for those close to this benchmark
If any other graduate work has been completed, the average GPA must be at least 3.0
Required Documents
With multiple ways to submit documents, Drexel makes it easy to complete your application. Learn more by visiting our Completing Your Application Guide.
Tuition
The tuition rate for the academic year 2023-2024 is $1342 per credit.
For the academic year 2023-2024, students enrolled in an online graduate academic program will be charged a graduate online program fee of $125 per year.
This program is eligible for Financial Aid.
Special tuition rates available for Drexel University Alumni, Military members, and members of our Partner Organizations

These rates apply only to new online students and students being readmitted.
Tuition rates are subject to increase with the start of each academic year in the fall term.
All students must contact applyDUonline@drexel.edu within the first two weeks of the term to request tuition savings for which they qualify.
Special rates cannot be combined. If you qualify for more than one special rate, you'll be given the one with the largest savings.
When receiving special tuition plans with Drexel University Online, you may not combine them with other tuition benefits that may be available from Drexel University.
Apply for admission to Drexel University
Use the Apply Now form to get started.