Max Baud: Dancer Turned Businessman
Monday, December 19, 2016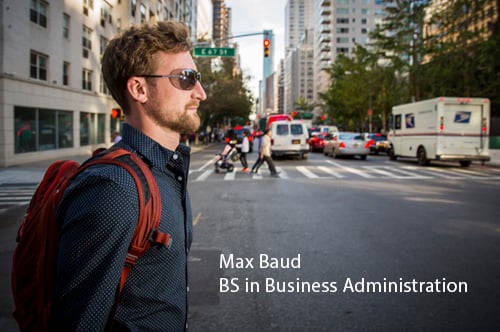 ---
Drexel University's online students are an eclectic bunch. Hailing from all corners of the globe, they bring a richly diverse collection of backgrounds and experiences into the virtual classroom. Take Max Baud, for example, a professional dancer who is balancing an artistic career with his coursework as a student in the BS in Business Administration program. Scroll through a day in Max's life to see this New Yorker on the go.
---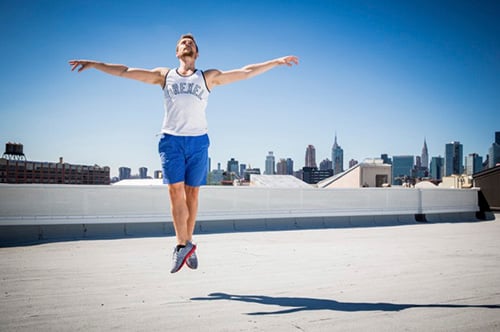 "I got into dancing when I was 10," says Max Baud. Having just wrapped up a morning of meetings, he dashes off to the Joffrey Dance Center in Queens, NY, where he serves as Associate Director of the Joffrey Ballet School Musical Theater Summer Intensive.
---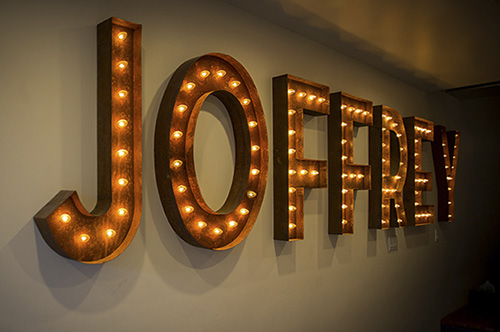 On this particular day, the affable Baud, a native New Yorker, transverses the concrete jungle seamlessly switching hats—from professional dancer, to instructor, to student, to businessman.
---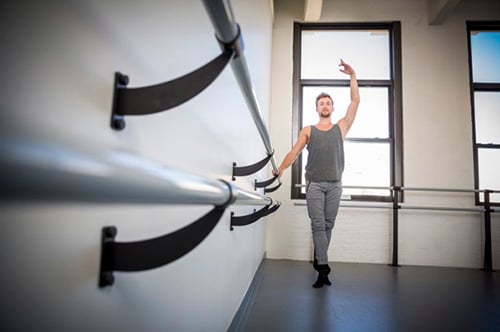 Here at the Joffrey Dance Center, his worlds collide. As assistant director, Baud calculates budgets, navigates legal regulations and arranges organizational logistics for the storied ballet company's intensive summer course.
"You have to figure out all these small details—the budget, the number of students you admit, then you've got to put it all together and present it to the big boss. All of these things I've been learning at Drexel…now I know how to use Excel, apply certain formulas...in terms of the values that you gain in your classes, they're applied almost immediately."
---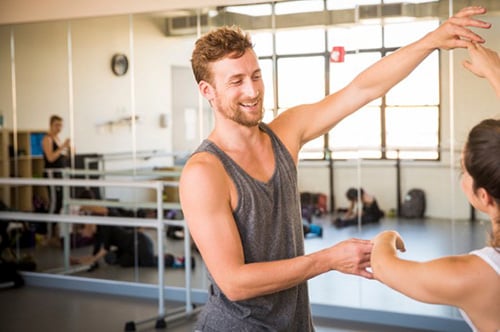 After a quick warm-up, it's time for Baud to teach a ballet class.
---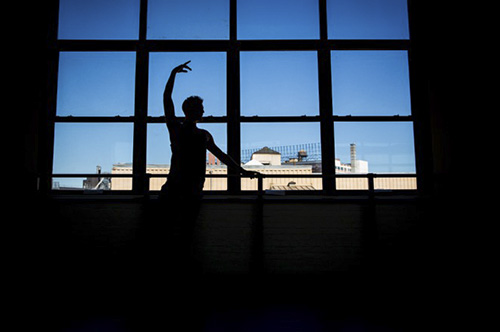 "The question 'why do I love dancing?' is kind of a mysterious one to me. I can't really put it in words, it's just something you feel inside. I think there's a natural burn and desire."
---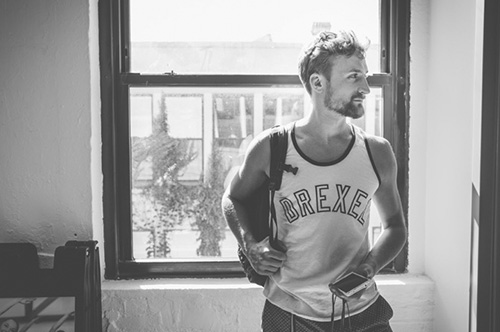 A quick trip back to his Upper East Side apartment and Baud takes off his dance shoes and puts on his backpack, metaphorically speaking.
---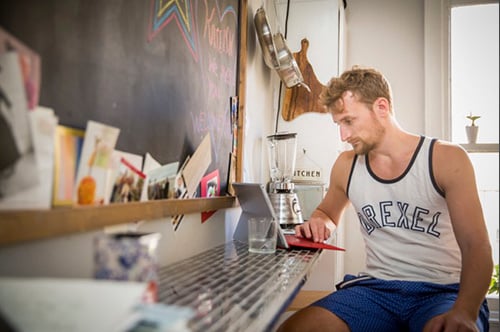 The shelf-life for a professional dancer is fleeting; Baud knows that what he learns at Drexel will be invaluable when it comes to making a smoother career transition.
"As a dancer, you understand choreography, we understand injury prevention, nutrition, but we're not so focused on the business end. And so, many times, arts organizations are not doing as well as they could be. So here I have my arts background, and that business degree, why don't I blend the two together and work towards creating some sort of great dance company or school."
---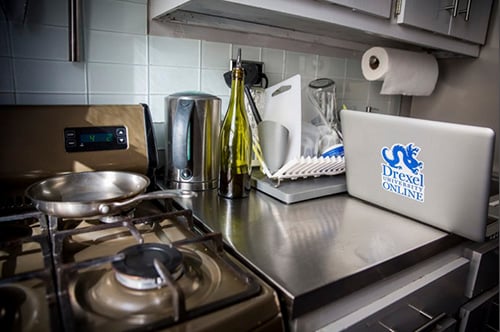 "Growing up, I had all of my focus on dance. So, looking back, I was a terrible student."
Baud started at Drexel as on-campus student, but switched to online when he went mobile on the national Broadway tour of Billy Elliot. He found confidence in the online classroom.
"I felt intimidated because some of the other students around me were always raising their hands, and because of that, maybe I would have had the right answer, but I didn't want to say it because I never had that confidence. So, online gave me the opportunity to develop a confidence in myself and really learn and participate in discussion boards."
---
Support plays a crucial role in Baud's multifaceted life. He takes a moment to reflect on his fiancé, Katelyn, a fellow dancer who has also taken online classes at Drexel.
"Whether it's taking a dance class, going on an audition, writing an essay or studying for an exam, we understand each other's needs and how tiring sometimes the daily grind can be. That support—it's incredible to have that. Somebody who understands that and lives it each and every day."
Nine days later, the couple will get married.
---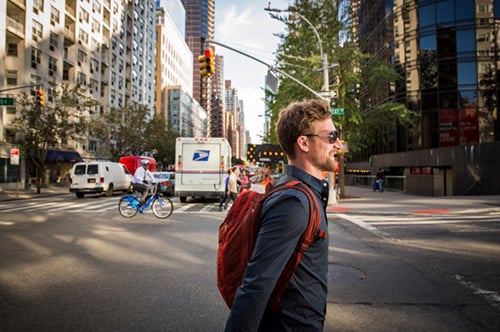 The sun starts to set on the Urban Jungle. Dinner is a salad on the go. Like most online students, Baud maintains a philosophy for dealing with the rigors of balancing life with academia: "What keeps me going is the fact that I love to keep going. Being a New Yorker, and growing up in that 'go-go-go' atmosphere, it's kind of second-nature to me."
Fittingly, he applies a physical analogy, "It's like you are your own personal trainer. The gym's open, but you have to go and do it."
---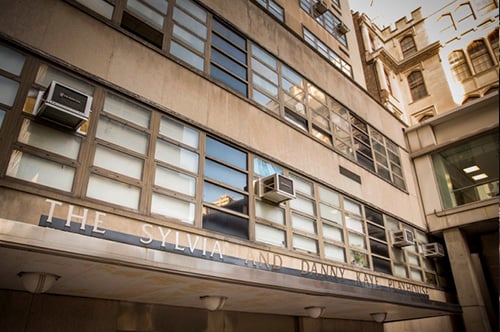 A quick walk and Baud arrives for rehearsals at the Kaye Playhouse at Hunter College. He's performing in the Dances Patrelle dance company's production of MacBeth.
---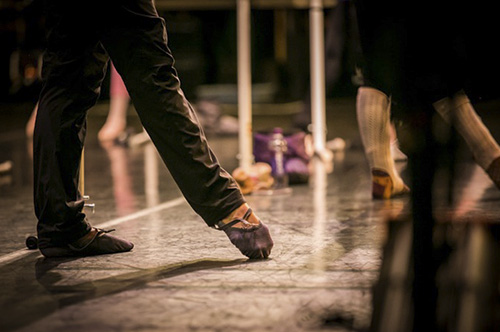 Rehearsal begins. Baud must be flexible—both literally and figuratively. "When you're on stage and someone forgets the choreography, or a prop falls, you just have to go with it. What I've learned is the flexibility that you have to have as a dancer merges into new business opportunities."
---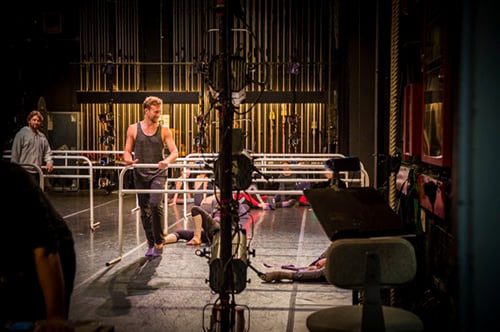 Looking into the future: "I don't have a set, exact plan." He and his business partner have created an LLC and are looking into starting a musical theater summer intensive in London.
"So whatever the next challenge might be, I know how to apply what I've been learning in the business world to something dance-related."
---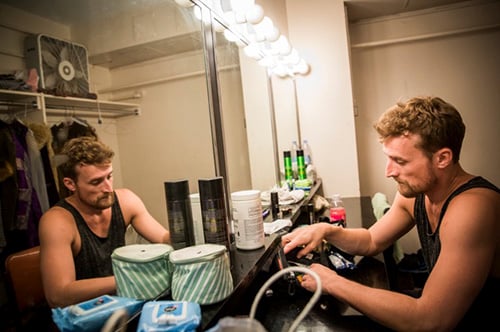 A rare moment of inertia, as Baud sits to get ready for opening night. At 7:30, the curtain will rise and the show will go on.
---