Master's in International Education Online
MS in Global and International Education via Distance-Learning
Today's leaders need the skills and practical knowledge to work within the context of global economic, political, cultural, and community influences on education. Drexel University's accredited online Master's in Global and International Education degree prepares you to work effectively with the complex global challenges, trends, and issues influencing education and learning development in diverse parts of the world, including the United States.
Graduates of the MS in Global and International Education program pursue careers in international and cross-cultural exchange, higher education, education abroad, law firms, international education associations, accreditation agencies, local community international outreach centers, the US government, international development or human service agencies, and non-governmental agencies.
Meet the Global & International Education Program Director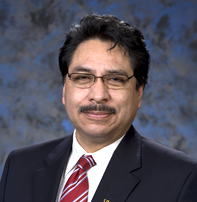 Global and International Education Master's Concentrations
These concentrations have been specifically developed to address new trends and developments in the international education field. Choose from one of five areas or create your own degree experience:
Education Policy — Acquire the tools to analyze, develop, and implement educational policy effectively in the U.S. and globally
E-Learning Leadership — Develop professional aptitude in distance and online learning, which are rapidly expanding educational modalities helping remote and impoverished communities across the globe have the opportunity for education
Higher Education — Master working in and with institutions of higher education as the field becomes increasingly globalized through foreign exchanges, international students, and technological advances
Learning Technologies — Explore new learning technologies and trends, applying them toward solving problems in the ever-evolving technical landscape of education
Peace Education — Learn to understand and counter the roots of cultural violence through education, utilizing a combination of interdisciplinary and multicultural theories
Customized — Work with your advisor to create a path that meets your individual career objectives
MS in Global and International Education Program Features
Drexel's online master's in international education is a unique program that prepares you to improve lives at both home and abroad. You'll learn to design global curriculum, promote international-mindedness, foster intercultural and global competence, advocate for social justice, and lead in global institutions.
Program Features
100% online
Courses taught by expert faculty with years of real-world experience
Multidisciplinary, globally-focused, and cross-cultural curriculum that emphasizes experiential learning
Global Classroom Participation
Gain a cross-cultural academic experience without ever leaving your home. Global classroom courses utilize interactive technology to allow you to work on collaborative projects with students at foreign universities such as The University of Montevideo Uruguay.
Global Education Colloquium
The MS in Global and International Education program hosts the Global Education Colloquium throughout the year, featuring distinguished speakers and lively discussion. The topics presented are the result of research spanning the full range of learning, teaching and training topics including international studies, higher education, peace education, social justice, inequality, politics of knowledge, policy, leadership, and organizational change.
Priority Application Deadline
Drexel University offers a priority deadline for the MS in Global and International Education program. Applications submitted by the priority deadline will receive priority review by the committee, and accepted students will receive an earlier decision. The priority deadline for the Fall 2022 term is March 1, 2022.
Applications are still accepted up until the regular deadline for the term. The regular deadline for the Fall 2022 term is August 22, 2022.
Requirements for The MS in Global and International Education Program
In order to be eligible for the online MS in Global and International Education, you must have a bachelor's degree from a regionally accredited institution with an undergraduate GPA of 3.0 or higher. For more information about required supporting documents, including additional requirements for international students, please see the Admissions Criteria page.
What Can I Do with An MS in Global and International Education?
Obtaining a Master's Degree in Global and International Education will qualify you for many career paths and positions, including:
Educational Exchange
International Affairs / Foreign Service
International Development Assistance
Teaching and Curriculum Development
In the following video, Jennifer Adams, Program Director for Drexel's online MS in Global and International Education, explains how this degree can help you find success in higher education, non-profits, government, and more.
More broadly, MS in Global and International Education graduates will have the skills to:
Recognize the various dimensions of educational interventions
Develop, analyze, and implement new educational policies in a variety of multicultural settings, both public and private
Provide critique on international, comparative, and educational research
Lead organizations in addressing the dramatic change in society and culture due to globalization and how these influence education
MS in Global and International Education Salary Expectations
Your salary can vary based on factors like job title, location, and years of experience. However, some average salaries within the field include:
International Aid / Social Worker - $51,760
School Counselor or Advisor - $58,120
Instructional Coordinator - $66,970
Education Administrator - $97,500
Source: BLS.gov, 2020
Archived Webinars
What Our Graduates Say
Learn how Meghan Moorhouse earned her degree while living abroad.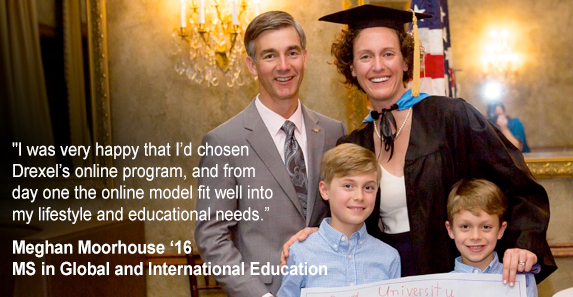 Related Programs
---
This program is also available as a Graduate Minor.
State restrictions may apply to some programs.
Curriculum
This program is organized into four 10-week quarters per year (as opposed to the traditional two semester system) which means you can take more courses in a shorter time period. One semester credit is equivalent to 1.5 quarter credits.
Core Courses

EDCR 512

Using and Integrating Learning Technologies
3.0

EDCR 518

Evidence-Based Evaluation
3.0

EDGI 503

Global, International & Comparative Education
3.0

EDGI 510

Culture, Society & Education in Comparative Perspective
3.0

EDGI 520

Political Economy of Education Reform
3.0

EDGI 522

Education for Global Citizenship, Sustainability, and Social Justice
3.0

Primary Concentration Courses

EDGI 506

Comparative Higher Education Systems
3.0

EDGI 518

Analysis of Policy Issues in Global & International Education
3.0

EDGI 524

Measuring the World: Education and National Development
3.0

Capstone Requirement

EDU 780

Capstone Research
3.0

Students have the option to select from the Practitioner or Thesis capstone track.

EDUP 780

Practitioner Capstone Course I
3.0
or EDUT 780
Thesis Capstone Course I

EDUP 781

Practitioner Capstone Course II
3.0-4.5
or EDUT 781
Thesis Capstone Course II

Select one of the following Secondary Concentrations:

*
9.0

Secondary Concentration in Peace and Human Rights Education

Conflict Resolution in an International Context
Educating for Peace, Social Justice, and Human Rights
Gender, Education, and International Organizations

Secondary Concentration in Higher Education Leadership

Foundations of Higher Education and Governance
Student Development Theory and Application
Legal Issues & Ethics in Higher Education

Secondary Concentration in Education Policy

Education Policy: Concepts, Issues, and Applications

Select two of the following courses:

Quantitative Literacy: Interpreting and reporting data for educational policy and research
The Shaping of American Education Policy: Global Forces, Interest Groups, and Politics
American Educational Policy and U.S. Competitiveness
Ethics in Educational Policy Making
Access & Equity in Educational Policy Making

Secondary Concentration in Educational Learning Technologies

The Learning Sciences
Learning Engineering
Teaching and Learning Issues in E-Learning

Sample Electives

**

Students can select courses as additional electives from within the School of Education or a course (with School of Education approval) from another Drexel University program, such as international business administration, foreign languages, women's and gender studies, or science/technology/society.

The following courses are strongly suggested offerings from the GIE program:

Colloquium in Global Education
Study Abroad Experience
Quantitative Literacy: Interpreting and reporting data for educational policy and research
Special topics in EDGI
Total Credits
45.0-46.5
*As an alternative secondary concentration, students may create a customized area of study from other Drexel University departments/programs such as International Business Administration, Foreign Languages, Women's and Gender Studies, or Science/Technology/Society.

**Students may choose any 500-level or higher course from the following subject codes as an elective as long as it does not require field experience or have any program restrictions: CRTV, EDAM, EDCR, EDGI, EDHE, EDLT, EDPO, EDUC, ELL, EHRD, ENTP, INTB, NPM, PBHL, PENG, SCL.
Admissions Criteria
A bachelor's degree from a regionally accredited institution
Undergraduate GPA of 3.0 or higher (graduate degree GPA will be considered along with the undergraduate GPA)

Provisional admission may be granted with a GPA between 2.80 to 2.99
Required Documents
With multiple ways to submit documents, Drexel makes it easy to complete your application. Learn more by visiting our Completing Your Application Guide.
A completed application
Official transcripts from all universities or colleges and other post-secondary educational institutions (including trade schools) attended
Two professional letters of recommendation
Personal Statement (500 - 750 words) describing your interest in the program. Specifically:

How the program relates to your previous educational and professional activities
If changing course, why you're moving in this new direction with your educational goals
How the program relates to your current line of work
How you plan to apply the program to your future goals

Resume
Additional requirements for International Students
Admissions decisions are made on a rolling basis.
Tuition
The tuition rate for the academic year 2023-2024 is $1079 per credit. (A 25% tuition savings off Drexel's regular tuition rate of $1438 per credit)
For the academic year 2023-2024, students enrolled in an online graduate academic program will be charged a graduate online program fee of $125 per year.
This program is eligible for Financial Aid.
Special tuition rates available for Drexel University Alumni, Military members, and members of our Partner Organizations

These rates apply only to new online students and students being readmitted.
Tuition rates are subject to increase with the start of each academic year in the fall term.
All students must contact applyDUonline@drexel.edu within the first two weeks of the term to request tuition savings for which they qualify.
Special rates cannot be combined. If you qualify for more than one special rate, you'll be given the one with the largest savings.
When receiving special tuition plans with Drexel University Online, you may not combine them with other tuition benefits that may be available from Drexel University.
Career Outlook
Drexel's Global and International Education program goes beyond the traditional "bricks and mortar" of a college campus. The degree provides students with the skills and knowledge to pursue careers within and outside of academia. Depending upon your concentration(s,) there are numerous career opportunities:
International Organizations: World Bank, Inter- Monetary Fund-IMF, Inter-American Development Bank-IADB, United States Agency for International Development-USAID, United Nations Educational, Scientific & Cultural Organization-UNESCO, International Association of Universities-Affiliate of UNESCO, Institute of International Education-IIE, Council for International Educational Exchange-CIEE, Association of International Education Administrators-AIEA
Non-profit and for-profit Organizations/Corporations: Museums, informal education organizations, foreign language businesses
Government Agencies' Educational and Training Divisions/Programs: U.S. Department of Education, State Departments of Education, National Center for Education Statistics-NCES, Federal TRIO Programs/Council for Opportunity in Education-COE
Politics: Political consultant, lobbyist, advisor
Organizations where our current students and graduates work
Administrative Concepts, Inc.
AHA Bolivia
Al Tawheed Primary School
Blue Ocean Language Center
Columbus Council on World Affairs
Davis and Elkins College
DC Public Schools
Drexel University
Ecole Sainte Marie

English Childrens Center
Exile International
Federal Reserve Bank of San Francisco
Felician College
Global Arena
Guy Carpenter & Company
Ilsan Daejin High School
Institute of International Education
Irish American University

Johnson and Wales University
Kogei High School
Marshall University
Ministry of Presidential Affairs
Salisbury University
Seagoville Elementary
Sogang University
Wall Street Institute



Job Titles of our current students and graduates
Academic Counselor
Admissions Counselor
ALT Teacher
Assistant Principal
Bilingual Customer Service Rep
Business Development Representative
Client Service Generalist
Consultant
Director of Academic Affairs
Director of International Programs

Director of Student Activities
Director of Study Abroad
English Instructor
English Tutor
Fellowships Coordinator
Fullbright Scholars Coordinator
International Programs Officer
International Student Advisor
LeBow International Recruitment
Nurse

Program Director- Center for Civic Engagement
Project Manager
Regional Program Director- Economic Education
Research Intern
Residential Life Coordinator
Senior English Foreign Teacher
Teacher
World Cultures Catalyst Project Coordinator



Co-Op Topics our current students and graduates have studied
A Chance for All: Favela Children in Jundiai
Analyzing the Link Between Co‐Curricular Activities and International Student Retention and Satisfaction
An Action Research Study on FLES Implementation in the Wyomissing Area School District
An Assssment of Peace Education for War Affected Children in East Africa
An Examination of the Cultural Awareness Training at the President's Scholarship Office
Creating a Continuum: A Fresh Look at Reporting & Grading & the Hiawatha Leadership Academy
Community College: Global Awareness through Study Abroad
Community Colleges' International Partnerships: American Association of Community Colleges' Global
Education Commission
CDPeace: Acting locally, Expanding Globally
Community Service and Global Citizenship with Semester at Sea
Developing a Model for the Implementation of a Child Assault Prevention (CAP) Project Within the Cultural Context of Africa
Developing Online Curricula for the National Hispanic Entrepreneurs Organization
Development of Social Studies Curriculum Reflecting Global Cultures and World History for K‐4 Students in Rwanda
Elementary Schools, Darfur & Advocacy: Do we expose our youth?
Emergency Preparedness Planning: Suggestions & Implementations for Social & Technological Disaster Recovery
Empower Through Education: A Model College Preparatory and Support Program for Students Who are Deaf in Developing Nations
Establishing Resource Manual and Training Program to Further the Professional Development of AEMC's in‐house Interpreters
Exploring Study Abroad Programs for non‐Traditional Graduate Students
Fast-forword Reading Progress Indicator As A Measure of Second Language Readiness
Global Communities: Assessment and Evaluation of Global Education Best Practice for the Development of a Secondary/Dual‐Credit Global Education Curriculum
Global Perspectives for High School: A College Preparatory Model for the Global Marketplace
Improving Education in Southern Sudan for Orphans Through the Implementation of a Best Practice Model
Improving English as a Foreign Language (EFL) in China
Incorporating Sustainability into Cross‐Cultural Courses at Eastern Mennonite University
Increasing Minority Participation in Study Abroad
In Pursuit of Peace: Implementing Peace Education in Palestine
Intercultural Education in a Korean High School
International Field Experience for Pre‐Service Teachers: Measure of Programs for Preparing Teachers to Globalize the Classroom
Internationalizing the Japanese Classroom Transforming Elementary Schools to Promote Global Learning
Language Literacy and Business Skills Training for Women in Guinea
Measuring Program Impact: A Model for Nonprofit Organizations Providing Global Education Youth Outreach
Merging a Culturally Diverse Campus through On‐ Campus Physical Activity
Partnerships for Peaceful Communities
Project Global Inform
Short‐term Study Abroad, Sports and Reflection
Study Abroad: A Focus on Reflection
The Importance of Study Abroad Experiences for Global Perspective in College Students
The Value of International Internships in Global Workforce Development
Using Learning Technologies to Teach Multiculturalism in Japanese Primary Schools
Viability and Efficacy of the Training of Trainers phase of Teacher Professional Development in Nepal: A Theory‐Driven Process Evaluation
Apply for admission to Drexel University
Use the Apply Now form to get started.