Online Doctorate in Educational Leadership and Management (EdD)
In a world where new technologies, federal mandates, and global issues are rapidly changing the landscape of education, the need for educator-leaders – primed to transform the practice and invent the future of learning – is more critical than ever. Drexel's fully online EdD in Educational Leadership and Management program fosters personal leadership growth, empowering you to move ahead professionally.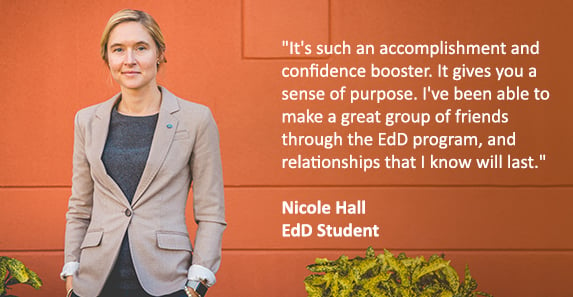 What is a Doctorate in Education?
The Doctor of Education program is specifically designed to prepare innovative leaders, capable of guiding complex organizations through uncertain times. With its focus on evidence-based theory, action research, and collaborative discourse, you will challenge old ways of thinking, while learning to create new models of effective practice across a wide range of educational and business environments.
Learn how to complete your EdD dissertation online.
Online EdD Program Features
The EdD program can be completed in three or five years on a part-time basis, allowing you to work full-time while earning your degree.
There is no residency requirement—all courses and the dissertation process can be completed 100 percent online.
Ten diverse concentration options are available, allowing you to tailor your degree to your area of interest.
You will become part of a student cohort, providing ample opportunities to network and receive support from a cohesive community that learns and grows together.
The program's accredited curriculum incorporates the expert knowledge and skills you must have to become an effective 21st century leader in educational or business environments – from instructional technology integration and transformative leadership, to strategic decision-making, institutional finance, and program evaluation.
Concentration Options
Athletic Administration
Covers legal and ethical matters, external funding sources, and additional issues that confront athletic departments in K-12 and higher education settings.
Creativity and Innovation
Provides an in-depth understanding of creativity, enhanced communication, and creative problem-solving; and explores how these may be applied to practical situations in the workplace.
Educational Administration (Pennsylvania Superintendent Letter of Eligibility optional)
Examines the impact of education on major social issues and provides the skills and knowledge necessary to develop interdisciplinary models of curricula and teaching strategies.
Education Policy
Engages with policies and policy issues that have an impact on education, those working in it, and those served by it. Includes a heavy emphasis on the roles of ethics and ethical decision-making in policy development.
Global & International Education
Reviews the complex economic, political, cultural, and social structures that shape learning in different parts of the world.
Higher Education
Develops practical skills, using the latest learning technologies, strategies, research, software applications, and management systems for universities and the communities they serve.
Human Resource Development
Produces 21st century leaders with the competencies and capabilities to facilitate workplace learning, performance, and change in any organizational setting.
Learning Technologies
Teaches the skills needed to solve the technological learning challenges facing schools and businesses. Includes a focus on areas such as instructional design, performance support, virtual communities, learning in participatory culture, and e-learning leadership.
Nursing Education
Prepares registered nurses to assume faculty positions while providing a robust interdisciplinary education between Drexel's School of Education and the College of Nursing and Health Professions. Those who wish to pursue this concentration must have an RN license.
Special Education Leadership
Provides the unique leadership knowledge and skills needed to successfully direct programs within special education.
The Drexel Difference
Learn more about what makes Drexel's EdD program unique and how our graduates have used the degree to further their careers.
CPED Program of the year
Drexel's EdD program received the Carnegie Project on the Education Doctorate (CPED) Program of the Year Award for 2019, a prestigious distinction that recognizes programs demonstrating excellence, innovation, and impact.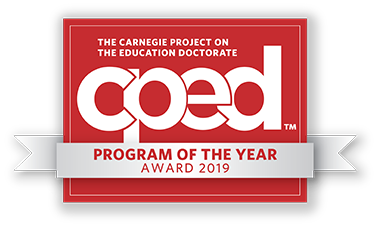 Upcoming Webinars
Archived Webinars
How long does it take to earn a Doctorate of Education online?
Drexel operates on the quarter system, which means there are four terms in a calendar year (Winter, Spring, Summer, Fall). The online EdD program requires 60.5-61.5 quarter credits. As working professionals, part-time students typically take three years to earn their degree as part of a cohort. There is also a one-course per term non-cohort plan of study that can be completed in five years.
Drexel's online EdD is specifically designed for working professionals. The online coursework and no residency requirement means that you can learn on your own schedule.
What can you do with a Doctorate of Education in Leadership and Management?
The EdD program is ideal for:
K-12 leadership: superintendents, principals, administrators, teachers
Higher education administrators
Organizers of community programs
Leaders in corporations that serve the educational community
Drexel's EdD program graduates go on to become leaders and innovators in the areas of instruction, administration, learning, and strategy within many kinds of organizations, including public and private schools, postsecondary institutions, government agencies, non-profit organizations, foundations, and corporations.
Doctorate of Education Leadership (EdD) Salary Expectations
Median Salaries for EdD Related Occupations:
Postsecondary Education Administrator
Elementary School Teacher
*2016 figures via Bureau of Labor Statistics
What is the difference between an EdD and a PhD in Education?
Once you have earned a master's degree, you have two options for completing a doctoral degree – an EdD or a PhD in Education. Although they are both doctoral programs, they are distinctly different in substance and focus.
You might consider pursuing an EdD for these reasons:
You aspire to work in a hands-on administrative leadership position in educational or corporate environments, government agencies, or nonprofit organizations
You want to become a research-informed leader-practitioner, skilled in real-world problem solving, strategic decision making, and organizational transformation
If you are interested in a faculty position at a higher education institution, a PhD in education would be a great choice. It is far more research-intensive, with an emphasis on creating "new knowledge" in a specific area of study that enhances the profession.
Additional Program Formats
---
State restrictions may apply to some programs.
Curriculum
This program is organized into four 10-week quarters per year (as opposed to the traditional two semester system) which means you can take more courses in a shorter time period. One semester credit is equivalent to 1.5 quarter credits.
Core Courses

EDUC 800
Educational Leadership & Change
3.0
EDUC 801
Creative Strategies for Educational Leaders
3.0
EDUC 804
Program Evaluation in Organizations
3.0
EDUC 845
Transformative Leadership: Finding One's Source
3.0
EEDD 888
Educational Leadership for Equity and Social Justice
3.0
Concentration Course Options (See Below)
15.0-16.0

Research Courses

EDUC 803
Educational Research Design I
3.0
EDUC 810
Educational Research Design II
3.0
EDUC 815
Writing for Research, Publication and Funding in Education
3.0
EDUC 818
Applied Research Study
3.0
EDUC 835
Quantitative Research Methods and Data Analysis
4.0
EDUC 836
Qualitative Research Methods and Data Analysis
4.0
EDUC 837
Advanced Qualitative Methods and Data Analysis
3.0
EDUC 880
Doctoral Seminar
1.0-1.5

EdD Candidacy Courses

EDUC 997
Doctoral Dissertation
6.0
Total Credits
60.0-61.5

Concentration Course Options
Working closely with your advisor, you'll craft a program concentration most appropriate for your needs and background.
Athletic Administration
SMT 615
Introduction to the College Sport Industry
3.0
SMT 618
NCAA Compliance
3.0
SMT 648
Gender Equity in High School & College Sports
3.0
Select two of the following:
6.0
SMT 612
Development & Fundraising Strategies in Sport
SMT 630
Sports Industry Practicum
SMT 635
Sport Facilities & Event Management
SMT 642
Administration of Interscholastic Sports
Total Credits
15.0
Creativity & Innovation
CRTV 501
Foundations in Creativity
3.0
CRTV 502
Tools and Techniques in Creativity
3.0
CRTV 503
Creativity in the Workplace
3.0
CRTV 620
Research Methods and Assessment of Creative and Innovative Thinking
3.0
CRTV 630
Global Perspectives on Creativity
3.0
Total Credits
15.0
Educational Administration (With Pennsylvania Superintendent Certification)
EDEX 712
Instructional & Curriculum Leadership in Special Education
3.0
EDAM 817
Curriculum Models
3.0
EDAM 820
School Superintendency
3.0
EDAM 824
Parents and Schools
3.0
EDAM 827
School Superintendent's Internship: Curriculum Models
1.0
EDAM 828
School Superintendent's Internship: Parents and Schools
1.0
EDAM 829
School Superintendent's Internship: Budget and Finance
1.0
EDAM 830
School Superintendent's Internship: Human Resource Development
1.0
Total Credits
16.0
Education Policy
EDPO 620
Education Policy: Concepts, Issues, and Applications
3.0
EDPO 624
The Shaping of American Education Policy: Global Forces, Interest Groups, and Politics
3.0
EDPO 628
American Educational Policy and U.S. Competitiveness
3.0
EDPO 632
Ethics in Educational Policy Making
3.0
EDPO 636
Access & Equity in Educational Policy Making
3.0
Total Credits
15.0
Global and International Education
Select Five:

EDGI 503
Global, International, & Comparative Education
3.0
EDGI 506
Comparative Higher Education Systems
3.0
EDGI 510
Culture, Society, & Education in Comparative Perspective
3.0
EDGI 512
Globalization and Educational Change
3.0
EDGI 518
Analysis of Policy Issues in Global & International Education
3.0
EDGI 520
Political Economy of Education Reform
3.0
Total Credits
15.0
Higher Education (For those without previous formal study in Higher Education)
EDGI 506
Comparative Higher Education Systems
3.0
EDHE 501
Foundations of Higher Education and Governance
3.0
EDHE 531
Legal Issues & Ethics in Higher Education
3.0
EDHE 541
Institutional Assessment, Accreditation, and Effectiveness
3.0
EDHE 621
Neuropedagogy and Assessment
3.0
Total Credits
15.0
Higher Education - Alternative Concentration (For those with a strong background in Higher Education)

Select Five:

EDGI 506
Comparative Higher Education Systems
3.0
EDHE 521
Student Development Theory and Application
3.0
EDHE 621
Neuropedagogy and Assessment
3.0
EDHE 622
Neurodiversity in Education and Workforce
3.0
EDHE 665
Student Success: Learning and Innovative Support Services
3.0
EDHE 680
Foundations of Evaluation
3.0
Total Credits
15.0
Human Resource Development
EHRD 500
Foundations of Human Resources Development *
3.0
EHRD 602
Coaching and Mentoring for Sustainable Learning
3.0
EHRD 611
Organization Development and Change
3.0
EHRD 612
Strategic Human Resource Development
3.0
EHRD 660
Principles of Adult Learning
3.0
Total Credits

*A 3.0 credit substitute course will be identified to replace AEOD 500 if you've already earned a master's degree in Human Resource Development.
15.0
Learning Technologies
EDLT 537
Technologies for Performance Support
3.0
EDLT 543
or EDLT 552
Play & Learning in a Participatory Culture
or Instructional Design: Project Management
3.0
EDLT 551
Instructional Design Methods
3.0
EDLT 554
Learning with Social Media and Mobiles
3.0
ELL 501
The Purpose and Business of E-Learning
3.0
Total Credits
15.0
Nursing Education
NURS 591
Foundations of Nursing Education
3.0
NURS 606
Curriculum Design for Higher Level Cognition
3.0
NURS 613
The Role and Responsibility of the Nurse Educator
3.0
NURS 615
Assessment, Measurement, and Evaluation
3.0
NURS 616
Teaching Methods in Nursing Education
3.0
Total Credits
15.0
Special Education Leadership
EDEX 710
School Law & Policy in Special Education
3.0
EDEX 712
Instructional & Curriculum Leadership in Special Education
3.0
EDEX 714
Development, Supervision, & Support: Special Education Leadership
3.0
EDEX 716
Organization & Administration of Special Education
3.0
Supervisor of Special Education Internship Courses
EDEX 721
Supervisor of Special Education Internship: Special Education Leadership
1.0
EDEX 722
Supervisor of Special Education Internship: Instructional Leadership
1.0
EDEX 723
Supervisor of Special Education Internship: Collaboration & Personnel
1.0
EDEX 724
Supervisor of Special Education Internship: Finance & Management
1.0
Total Credits
16.0
Admissions Criteria
Bachelor's degree from a regionally accredited institution
Master's degree in Education (or another appropriate field) from a regionally accredited institution

Master's GPA of 3.5 or above

Three years of work experience relevant to your professional goals
Nursing Education concentration only: Current, unrestricted United States RN license
Required Documents
With multiple ways to submit documents, Drexel makes it easy to complete your application. Learn more by visiting our Completing Your Application Guide.
A completed application
Official transcripts from all universities or colleges and other post-secondary educational institutions attended (including trade schools), verifying completion of your bachelor's and master's degrees
Three professional letters of recommendation
Resume
Nursing Education concentration only: Copy of your United States RN license
Additional requirements for International Students
Writing Requirements
Personal Essay
Discuss your professional goals and aspirations, including how your current skills, along with your study of educational leadership, will support the attainment of these goals. (300 words maximum)
Problem of Practice
In the Drexel EdD program, you'll identify a problem of practice that becomes central to your dissertation research. While the final dissertation topic and document evolve over time, generally, our students arrive with one or more ideas for a problem of practice they have an interest in studying.
In this essay, please identify and describe a problem of practice relevant to your current (or a former) professional practice. (750 words maximum)
Describe the significance of this problem to the organization.
Based on your present understanding of the problem, discuss the potential underlying causes and contributing factors that have created the current challenges.
What questions could be explored to learn more about the problem that may help to create potential solutions.
Writing Sample
Provide academic papers from prior coursework or journal articles that cite from peer reviewed articles and demonstrate your academic writing abilities. (5-30 pages)
If no prior academic papers are available, please create one on a topic of your choice. (5-8 pages)
Alternatively, you may provide a writing sample where you are the solo author—this may be a work-based report that evidences your critical thinking and writing skills.
Supplemental Documents
The application process is designed to highlight emerging leaders who can display experience leading teams and groups, strategic planning, and research and development. To make your application more competitive, you're encouraged but not required to submit two or more of the following:
A detailed statement discussing your sustained leadership activities
A detailed statement discussing your creative activities or products
A detailed statement discussing your significant research activities or publications
Drexel University Employee Applicants
The EdD program only accepts 5 employees per academic year. Once the application submission cycle is closed, all employee applications will be reviewed and decisions will be made at that time with offers being extended to the top five competitive applications. The Drexel University employee application deadline for Fall 2021 and Spring 2022 is August 9, 2021.
Tuition
The tuition rate for the academic year 2020-2021 is $1342 per credit.
The 3-year program is eligible for Financial Aid. The 5-year program is not eligible for Financial Aid.
30% tuition savings available for:

Military members serving on active duty or with the National Guard or reserves, veterans, and military dependents
Full-time faculty and staff employed at community colleges and their immediate family members
Employees and members of Drexel University Online partner organizations and immediate family members
Alumni of Drexel University's School of Education and College of Nursing & Health Professions master's degree programs

When receiving special tuition plans with Drexel University Online, you may not combine them with other tuition benefits that may be available from Drexel University.
Students being readmitted to Drexel University must contact applyDUonline@drexel.edu within the first two weeks of the term to request tuition savings for which they qualify.
Contact Faculty
The following faculty members are available to speak to you about the program by phone or email. For a full listing of faculty, please visit Drexel's School of Education.
Kristen Betts, EdD
Clinical Professor
Higher Education
kbetts@drexel.edu
912.257.8336
Drexel's 10,000 Hours Podcast: You Live and You Learn (Online)

José Luis Chávez, EdD
Clinical Professor
Higher Education, Educational Leadership & Management
jlc334@drexel.edu
916.325.4690

Rebecca Clothey, PhD
Associate Professor
Higher Education, Higher Education Policy, Global & International Education
rac52@drexel.edu
215.895.5931

Salvatore Falletta, EdD
Clinical Professor
Human Resource Development, Educational Leadership and Management
salhrd@drexel.edu
916.213.8773

Kathy Geller, PhD (Based in California)
Associate Clinical Professor
Human Resource Development, Educational Leadership and Management
kathygeller@drexel.edu
916.213.2790

John M. Gould, PhD
Program Director
Educational Administration, Educational Improvement and Transformation, Higher Education
jmg97@drexel.edu
215.895.5879

Penny Hammrich, PhD
Dean
Distinguished University Professor
plh33@drexel.edu
215.895.5929

Deanna Hill, JD, PhD
Program Director
EdD in Educational Leadership and Management
deanna.hill@drexel.edu
904.239.1127

Valerie Klein, PhD
Program Director
Mathematics Learning and Teaching, Teaching Learning and Curriculum
valerie.e.klein@drexel.edu
215.895.0946

Bruce Levine, JD
Director
Drexel University Washington DC Center
Program Director
Educational Policy, Global and International Studies
bl63@drexel.edu
301.529.8469

Kathleen Provinzano, PhD
Assistant Professor
Educational Administration, Educational Leadership & Management
ktp37@drexel.edu
215.895.6770

Fredricka K. Reisman, PhD
Director
Drexel/Torrance Center for Creativity and Innovation
freddie@drexel.edu
215.895.6771

Janet Sloand, EdD
Director
Special Education, Applied Behavior Analysis
jms557@drexel.edu
215.571.4470
Apply to earn a Drexel degree online!
By starting or resuming an application to Drexel University, I accept that I may be contacted by phone, e-mail, direct mail, and text message.