Master's Degree in Business Analytics (MS) Online
Master of Science in Business Analytics
Every piece of data has a story. Figuring out how to best tell and utilize that story for the good of your business is the goal of Drexel University's online MS in Business Analytics. With an emphasis on "good data used well," the program focuses on preparing you to work with a much wider variety of data than is typically analyzed allowing you to gather and analyze data to tell its story with insightful, actionable conclusions. Today, on average only 15 percent of data is actually being analyzed, making it imperative that companies find candidates who are capable of analyzing a much larger array of data, like text, video and audio.
Drexel's online MS in Business Analytics program can be completed in as little as 18-24 months.
What is Business Analytics?
"Data" is a buzzword today, but for a business to be successful, that data needs to be effectively gathered and analyzed to help inform a company's future. The role of a business analyst is to do exactly that: they review and analyze historical data in the hopes of gathering insight that can help shape a company's future decisions. Business analytics professionals do this through skills like data management, data visualization, predictive modeling, data mining and forecasting simulation.
Drexel's MS in Business Analytics Online Program Features:
Business Core - These courses provide the insight to better understand the value of analytics within business.
Foundation Courses - The three pillars of analytics - statistics, data management and predictive modeling – provide in-depth analytical skills. These foundational courses make up the bulk of your credit hours, preparing you to tackle every step of the business decision-making process.
Concentrations and Electives - Through your electives, you have the option to choose a concentration in either Information Systems, Statistics, or Modeling, as well as a custom concentration from a variety of disciplines at the University.
Capstone - This project will help you to analyze and reflect on what you have learned throughout your course of study.
Whether you are interested in staying in your current field or changing careers altogether, the online master's in business analytics program at Drexel will prepare you to provide valuable insights in a wide variety of industries such as engineering, finance, economics, technology, or marketing.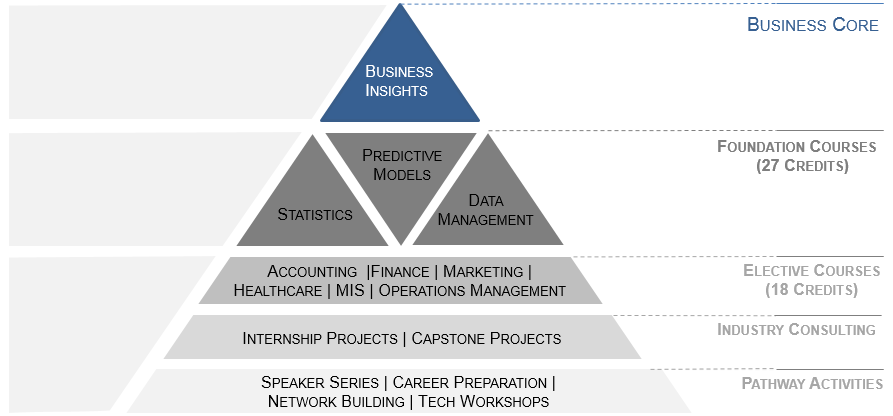 Dual Degree Options
The LeBow College of Business offers the ability to share up to 15 credits across degrees, maximizing both your time and financial investment. You can declare your second degree once you have completed at least 15 credits of your initial degree. Any of the online business degrees can be paired as a dual degree such as MBA/MS Business Analytics, MBA/MS Sport Business, or MS Business Analytics/MS Sport Business, with shared coursework usually through elective credits.
How Can I Afford an MS in Business Analytics?
While the cost of earning a master's degree can be daunting, Drexel's LeBow College of Business is committed to making it affordable for qualified applicants. Please visit the tuition page to learn more about scholarship opportunities available for this program as well as other cost savings programs.
What is the Difference between Business Intelligence (BI) and Business Analytics?
Business intelligence and business analytics professionals have a lot in common. Both deal with interpreting data for the good of an organization. However, they address two different parts of the same problem: what can data tell a business about how to be successful? Professionals in business intelligence tend to focus on the past, looking at historical data to find trends that led to the company's decisions. Business analytics professionals, on the other hand, look to the future. They look at historical data to try and project how businesses can grow and change successfully in the years ahead.
What Does The Ms In Business Analytics Degree Consist Of?
Drexel's MS in Business Analytics focuses on three pillars:
Statistics - Our faculty teaches future leaders how to find value in the data. Drexel's courses provide insights to better understand the importance of data-driven decision-making for today's businesses.
Modeling - Learn to model the data and use proper techniques based on the right data sets, algorithms, and variables. More importantly, you'll be able to communicate the results to executives so they understand the model and how it can benefit the business.
Data Management - Big data is here to stay. Learn to manage and utilize big data that drives industry decision making.
Graduates of the program will be able to formulate a question or problem based on data, model the data based on the problem, analyze the data, and, most importantly, present the data to executive leadership in easy to understand language.

How Long Does It Take To EARN An Online Ms In Business Analytics?
Depending on the amount of courses taken per term, Drexel's online MS in Business Analytics can typically be completed in 18 to 24 months. Upon graduating, you'll be able to confidently tackle the workforce knowing that you have the tools you need to succeed. From formulating a problem and modeling it out conceptually to gathering and applying data, you'll be ready to solve real-world problems with the skills you've learned from your courses. And, thanks to the online format, you can schedule your classwork around your life.
Is Math Crucial to Business Analytics?
While math plays a role in data analytics, it's not necessarily the defining characteristic of the field. Far more important is the ability to explore data with an eye for relationships and insights that can benefit an employer in the future. You will take some classes in statistics, but no one should rethink pursuing a degree in business analytics because of their math skills.
What Kinds of Jobs Can You Get With an MS in Business Analytics?
An MS in Business Analytics prepares you for a variety of data-driven careers throughout the business field. Just a few of the job titles graduates can earn are:
Analytics Analyst
Application Developer
Business Intelligence Analyst
Business Intelligence Engineer
Business Technology Analyst
Consultant
Data Science Manager
Data Scientist
Digital Media Analyst
Market Research Analyst
Predictive Modeler
Pricing Analyst
(From the State of Business Analytics Report: 2017 – LeBow Business Analytics Solutions Center)
What Salary Will I Earn in Business Analytics?
Armed with the skills needed to analyze a wide variety of data, graduates of Drexel's online business analytics degree are ready to command a competitive salary.
Business Intelligence Analyst
Business Intelligence Engineer
Business Technology Analyst
*Data from glassdoor.com
Related Programs
---
Drexel University offers a variety of Graduate Minors that can be added to any master's degree program.
State restrictions may apply to some programs.
Courses
This program is organized into four 10-week quarters per year (as opposed to the traditional two semester system) which means you can take more courses in a shorter time period. This program can be completed in 18-24 months. One semester credit is equivalent to 1.5 quarter credits.
You may transfer up to 9 graduate credits into the program.
Term
Course
Title
Credits
Fall
(6 credits)
MIS 612
Aligning Information Systems and Business Strategies
3.0
STAT 610
Statistics for Business Analytics
3.0
Winter
(6 credits)
MIS 633
Predictive Business Analytics with Relational Database Data
3.0
STAT 630
Multivariate Analysis
3.0
Spring
(6 credits)
MIS 634 (or) MIS 632
Advanced Programming in SAS (or) Database Analysis and Design for Business
3.0
STAT 642
Data Mining for Business Analytics
3.0
Summer
(6 credits)
OPR 601
Managerial Decision Models and Simulation
3.0
Concentration/Elective: STAT, MIS, OPR, Functional Area of Business Concentration
3.0
Fall
(6 credits)
BUSN 710
Business Analytics Capstone Project
3.0
Concentration/Elective: STAT, MIS, OPR, Functional Area of Business Concentration
3.0
Winter
(6 credits)
OPR 620
Operations Research I
3.0
Concentration/Elective: STAT, MIS, OPR, Functional Area of Business Concentration
3.0
Spring
(6 credits)
Concentration/Elective: STAT, MIS, OPR, Functional Area of Business Concentration
3.0
Concentration/Elective: STAT, MIS, OPR, Functional Area of Business Concentration
3.0
Summer
(3 credits)
Concentration/Elective: STAT, MIS, OPR, Functional Area of Business Concentration
3.0
Total credits
45.0
Admissions Criteria
A bachelor's degree from a regionally accredited college or university

No specific undergraduate major is required
Degrees earned abroad must be deemed equivalent to a U.S. bachelor's
GPA of at least 3.0 preferred
Required Documents
With multiple ways to submit documents, Drexel makes it easy to complete your application. Learn more by visiting our Completing Your Application Guide.
A completed application
Transcripts
Official transcripts from all universities or colleges and other postsecondary educational institutions attended (including trade schools)
Unofficial transcripts may be sent to expedite the review of your application. Official transcripts must be received if you are accepted into the program.
GMAT/GRE
Scores: GMAT score of at least 570

The GRE is also accepted in lieu of the GMAT, with scores of at least 153 in both verbal and quantitative reasoning, or a score of at least 1170 on the old test.


Waivers: You may request a waiver based on your individual professional and academic background.

To be considered for a waiver, please indicate this preference on your application. The GMAT or GRE waiver decisions will be based on a holistic review of the following:

1. Undergraduate major and GPA

2. Potential to complete graduate coursework, quantitative ability, and advanced analytical reasoning skills as demonstrated through professional and/or academic experience

3. Professional experience and certifications (Co-op/internship experience can be considered for those without post-graduate professional experience)

4. Those who have already completed a terminal degree such as MD, DO, or PHD can request a waiver based on successful completion of their degree
Letter of Recommendation: One professional letter that speaks to your performance and accomplishments, and attests to your ability to succeed within the program.
Resume: Quality and quantity of professional experience will be evaluated
Essay: This personal statement (approximately 500 words) should describe in detail your reasons for pursuing a graduate degree from LeBow College, your short-term and long-term career plans, and how your background, experience, interests, and/or values, when combined with a Drexel graduate degree, will enable you to pursue those goals successfully.
Additional requirements for International Students
Tuition
The tuition rate for the academic year 2022-2023 is $1173 per credit.
This program is eligible for Financial Aid.
Special tuition rates available for Drexel University Alumni, Military members, and members of our Partner Organizations

These rates apply only to new online students and students being readmitted.
These rates apply only to fully online courses. Hybrid or on-campus courses may have different rates.
Tuition rates are subject to increase with the start of each academic year in the fall term.
All students must contact applyDUonline@drexel.edu within the first two weeks of the term to request tuition savings for which they qualify.
Special rates cannot be combined. If you qualify for more than one special rate, you'll be given the one with the largest savings.
When receiving special tuition plans with Drexel University Online, you may not combine them with other tuition benefits that may be available from Drexel University.
Scholarship Opportunities
To assist students in their achievement, the LeBow College of Business offers scholarship opportunities* to highly-qualified applicants. You will automatically be considered for the following:
Merit Based Scholarships
With the support of alumni, the LeBow College of Business offers the Alumni Merit Scholarship to top applicants in the MBA and MS programs. Scholarship consideration is based on your application, focusing strongly on academic achievement, professional experience, GMAT or GRE exam scores, and unique personal attributes. There is no separate application for this scholarship opportunity.
Underrepresented Minority (URM) Scholarship
To demonstrate the LeBow College of Business commitment to diversity and inclusion, additional scholarships are available for prospective students who identify as African American, Latino, Native American, and Alaskan Indian. Beginning with the Fall 2022 term, the URM Scholarship will become the Justice, Equity, Diversity and Inclusion (JEDI) Scholarship – see details below.
Justice, Equity, Diversity, and Inclusion (JEDI) Scholarship
As of Fall 2022 term, the JEDI Scholarship will replace the URM Scholarship. The JEDI Scholarship recognizes individual student achievements and contributions within their personal or professional communities. To qualify, you must meet one of the following criteria:
You have demonstrated excellent contributions and achievements to further social justice, diversity, equity, and inclusion in their professional and/or personal communities
You are of African American/Black, Hispanic/Latinx, Native American, Alaskan Indian or Pacific Islander descent are also eligible for the JEDI Scholarship.
There is no separate application, however, please showcase the following when prompted to do so on the application:
Your passion for pursuing social justice, diversity, equity, and inclusion initiatives
Your work to support the personal or professional development of underrepresented groups
*Scholarships may be offered in addition to any other applicable tuition savings. Scholarship deadlines are subject to application deadlines. Learn more about scholarship opportunities available for graduate business students.
Academic Calendar
2022-2023 Academic Year
2021-2022 Academic Year
Apply to earn a Drexel degree online!
By starting or resuming an application to Drexel University, I accept that I may be contacted by phone, e-mail, direct mail, and text message.